Pete Davidson clapped back at critics who said he shouldn't be dating with mental illness in a powerful Insta post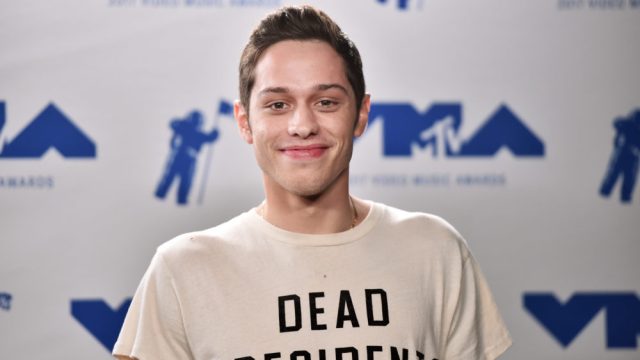 On Monday, May 21st, rumors broke that Saturday Night Live star Pete Davidson and "No Tears Left To Cry" singer Ariana Grande may be dating (he confirmed his split with Larry David's daughter Cazzie earlier this month). And while there's yet to be any official confirmation on the speculation, some fans have definite thoughts on Davidson's dating life — and he's NOT here for it.
Specifically, some fans have insinuated that Davidson — who has been diagnosed with Borderline Personality Disorder (BPD), shouldn't be dating anyone because of his mental health status. In September 2017, Davidson appeared on Marc Maron's "WTF" podcast, noting that BPD causes mood swings, sudden change in interests, and fluctuating self-image.
Davidson took to his Instagram Stories on May 24th to address the criticism head-on.
"Normally I wouldn't comment on something like this cause like f— you. But I been hearing a lot of 'people with bpd can't be in relationships' talk. I just wanna let you know that's not true. Just because someone has a mental illness does not mean they can't be happy and in a relationship."
https://www.instagram.com/p/BhfLsLSHOVv
He continued:
"Everybody is different and there are a lot of treatments for mental illnesses and I have done/am doing all of them. And I encourage those who struggle to seek help as well it has changed my life for the better. I just think it's f—ed up to stigmatize people as crazy and say that they are unable to do stuff that anyone can do. It's not their fault and it's the wrong way for people to look at things."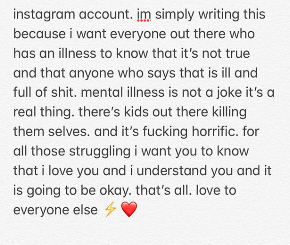 No one should have to defend themselves or their life choices from anonymous critics, so we're glad Davidson spoke up. He's helping to lessen the stigma around mental illness — as well as the seldom-talked about stigma around dating with mental illness — and we're sure it will help so many others going through the same thing.