Pete Davidson officially confirmed his engagement to Ariana Grande in most Pete Davidson way possible
After keeping us guessing for what feels like a million years, we're happy to announce that Pete Davidson confirmed he's engaged to Ariana Grande. Though the couple has been teasing us with shots of that stunning engagement ring on Instagram and other not-so-subtle hints on social media, they had yet to officially confirm the big news…that is, until now.
Davidson very appropriately made the announcement during his June 20th appearance on The Tonight Show Starring Jimmy Fallon, which is certainly fitting given that Grande is a longtime pal and frequent guest on Fallon's show. Naturally, Fallon didn't hold back, telling Davidson right off the bat, "You know, you didn't have to get engaged to Ariana Grande to come on our show."
To which Davidson quipped, "But I did though!"
After a congratulations and a handshake, Davidson said that being engaged is "f*cking lit," adding, "I feel like I won a contest. […] It's so funny walking down the street, because dudes are walking by, and they're like [tipping their hats to me]. Like 'Yo, man, you gave me hope.'"
https://www.youtube.com/watch?v=OwAL5TetOdI?feature=oembed
He joked, "I'm like, I didn't know I was that ugly!" before sweetly adding, "I'm a lucky motherf*cker."
Davidson also admitted he finds all the attention around their relationship baffling. "Why do people care?" he asked. "It's very weird. The president's, like, trying to pardon himself, and he's like, f*cking a pornstar. Shouldn't we care about that?"
Fallon replied, joking, "No. We want to know what you're wearing."
All jokes aside, Davidson seems insanely happy about his pending nuptials, if not perhaps slightly uncomfortable by all the attention. In fact, he seemed far more comfortable geeking out about his fellow guest, Robert Pattinson, noting that he really came on the show to help promote one of his favorite movies of all time, Good Time (which Pattinson stars in).

"It's one of the best movies ever made," Davidson gushed as Pattinson sat next to him, cracking up. "I'm here to promote Good Time. It's the most insane, crazy movie I've ever seen. That's why I'm here. What? I'm going to promote a movie I'm in for 10 seconds? Which is great, by the way. Go see Set It Up. But [Pattinson] should've gotten an Oscar! I love this movie so much."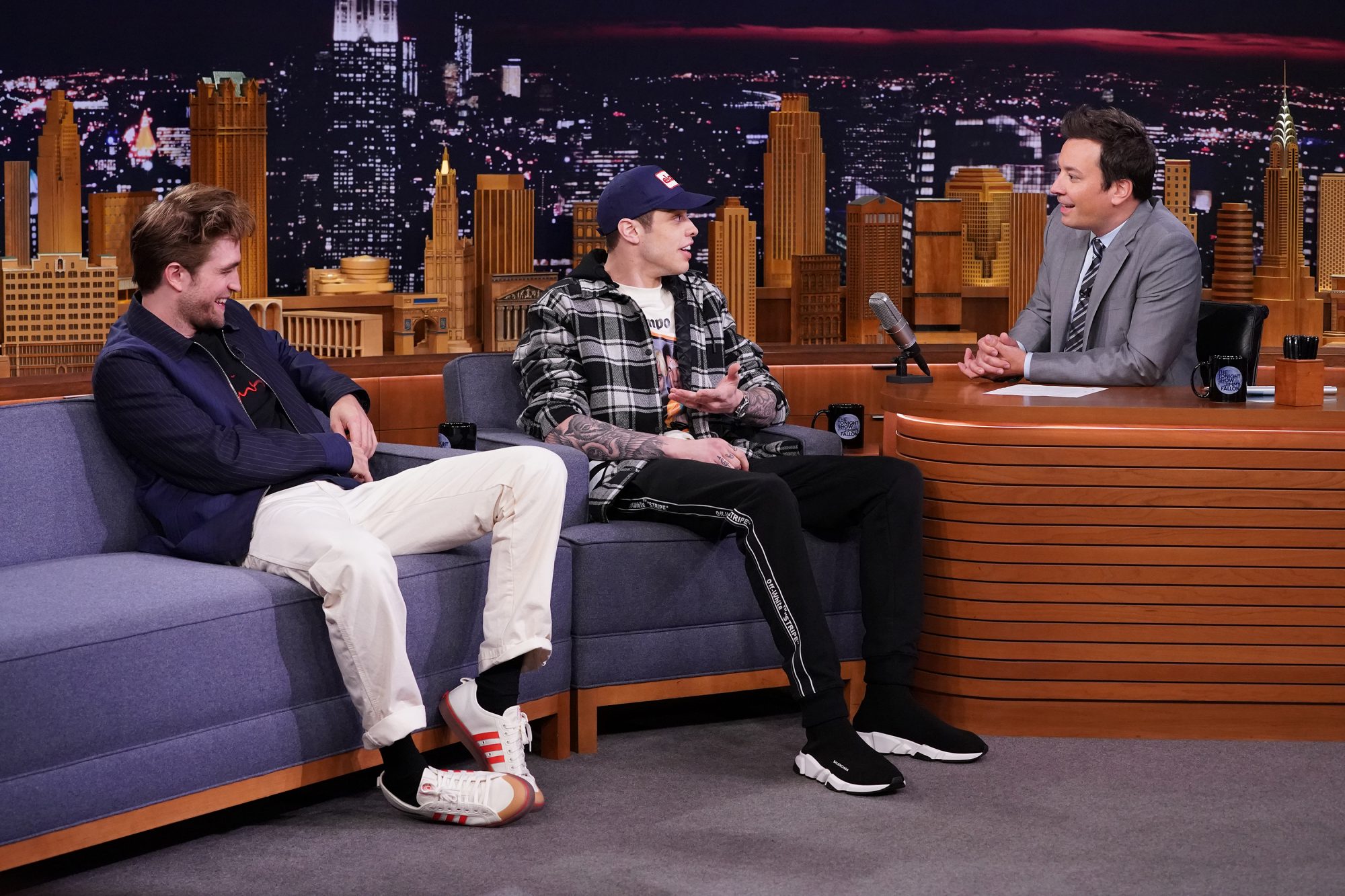 He also called Pattinson "the greatest actor of his generation," and revealed that he was literally wearing a shirt with Pattinson's face on it.