Pete Davidson finally broke his silence on his breakup with Ariana Grande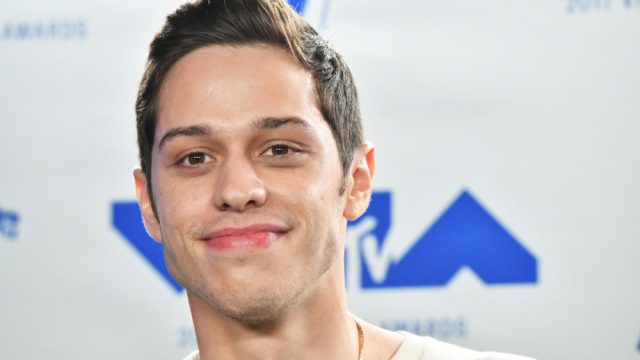 For the first time since their reported October 14th split, Pete Davidson finally broke his silence about his breakup with Ariana Grande. And he did so in classic Pete Davidson style—via a comedy set. Davidson cohosted a comedy fundraiser called Judd & Pete for America alongside Judd Apatow on Saturday, October 20th. It was during this stage appearance, his first since the reported breakup, that he addressed his relationship status.
"Well, as you could tell, I don't want to be here. There's a lot going on," Davidson joked according to E! News. "Does anybody have any open rooms? Looking for a roommate?"
Grande and Davidson were living together in Grande's multi-million-dollar apartment in New York City. The SNL star is now reportedly living with family, and according to a source who spoke with E! News, his friends and family "are keeping him laughing."
Regarding his Grande-inspired tattoos, several of which he's covered up in the past week, Davidson said, "I'm f—king 0 for 2 in the tattoo [department]. Yeah, I'm afraid to get my mom tattooed on me, that's how bad it is." He then outwardly addressed the elephant in the room, saying, "Obviously you know I, we [Ariana and I] broke up or whatever but when me and her first got engaged we got tattoos."
Davidson continued: "And it was like in a magazine like, 'Was Pete Davidson stupid?' And 93% of it said yes. So my boy, he was like, 'Don't listen to that s—t, man. They're literally f—king haters.' And I'm like, yeah, f—k that. I'm not stupid. And the other day we were in my kitchen and he was like, 'Yo bro. Turns out you were stupid.'"
Apatow gave kudos to Davidson for appearing on the show amid the drama, joking, "I care more about America than Pete's feelings." Davidson responded, "I feel like I am America. I'm a good guy that just keeps getting kicked in the dick. You're like, 'Ah, that f—king poor kid. Hope he doesn't kill himself.' That's America."
Grande also addressed the breakup last week in a now-deleted Instagram post in which she told fans she was going to take some time away from social media. Breakups are never easy, and we imagine that highly public breakups aren't any easier. We sincerely hope both Davidson and Grande are doing okay.