Pete Davidson just got not one, but TWO Ariana Grande tattoos, and we are speechless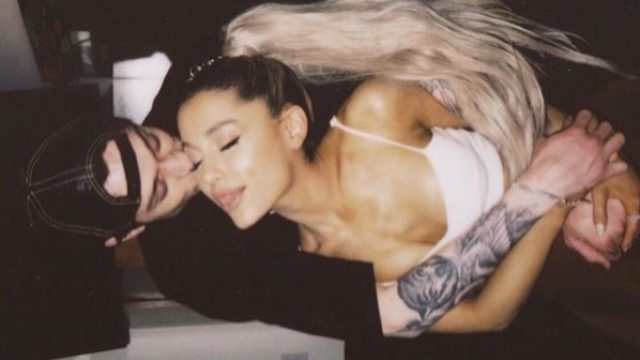 Pete Davidson and Ariana Grande have had quite the last two weeks together. Rumors first surfaced that the SNL cast member and the singer were dating on May 21st. In the 12 days since then — yes, it's only been 12 days — the couple has already hit many relationship milestones. And they've posted them to Instagram for the whole world to see.
Here's a quick recap in case you're out of the loop: Davidson and Grande began showing up in each other's Instagram Stories over Memorial Day weekend. On Wednesday, May 30th, Davidson posted a picture of the duo wearing Hogwarts robes. (Davidson is a Gryffindor and Grande is a Slytherin, in case you were wondering.) The next day, Grande shared a picture of them kissing, and Instagram went wild.
And now — again, just 12 days since the rumors of their relationship broke — Davidson has taken things to the next level. He got not one, but TWO Ariana Grande tattoos, coursety of L.A.-based tattoo artist London Reese. The first tattoo, which sits just under his left ear, is the black bunny mask that Grande wears on the cover of her 2016 album Dangerous Woman. The second, on the knuckle of his right thumb, shows her initials: AG.
Honestly, we're…a little speechless.
But it's also pretty cute, tbh.
Still, dang. It's all happening so quickly. What's the rush, kids?
Well, if there was still any doubt in anyone's mind that these two might not be together, this pretty much confirms it.
Ah, young love. What will these two do next?