Ariana Grande responded to Pete Davidson's SNL promo quip about their breakup, and omg
We certainly hope you aren't enjoying a nice beverage right now. Ariana Grande has responded to ex-fiancé Pete Davidson's quip about their breakup in his newest Saturday Night Live promo, and this might make you spit out your drink. Earlier today, NBC shared a teaser for an upcoming episode of SNL. In the clip, Davidson stands alongside host Jonah Hill and musical guest Maggie Rogers, and alludes to their split by jokingly proposing to Rogers. He says, "Hey, Maggie. I'm Pete. You wanna get married?" Rogers declines his proposal with a "no."
Watch the SNL promo below in its entirety below.
About an hour later, Grande took to Twitter in what appeared to be a response to Davidson. She wrote, "for somebody who claims to hate relevancy u sure love clinging to it huh"

She then retweeted the following: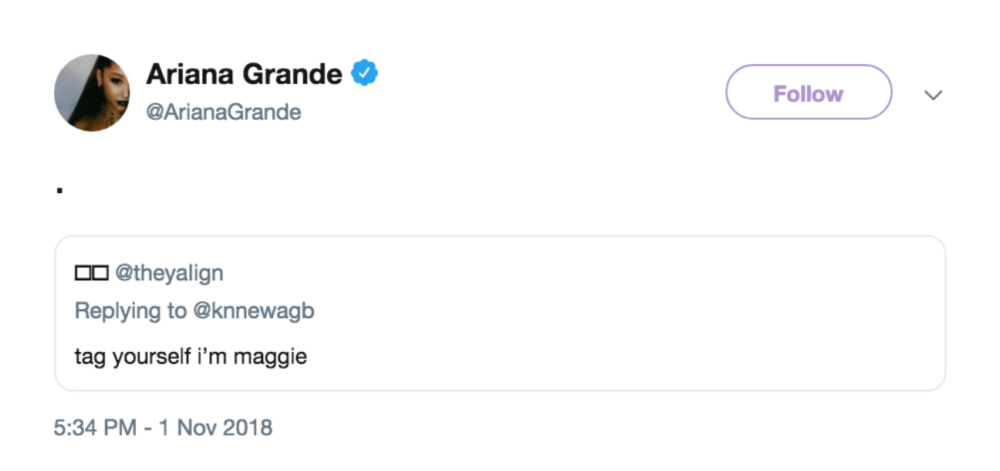 Are you screaming as loud as we're screaming right now?
NBC's promo comes on the heels of news that Grande permanently covered up one of her "Pete" tattoos with a leaf on her wrist. As many will recall, the "God is a Woman" singer and SNL actor began dating in May 2018 and, after a whirlwind romance and surprise engagement in June, reportedly ended their relationship in October. The duo have an adopted pig together named Piggy Smallz.
This isn't the first time Davidson has cheekily addressed the split. At a comedy appearance alongside Judd Apatow last month, the comedian quipped, "There's a lot going on. Does anybody have any open rooms? Looking for a roommate?"
Saturday Night Live with host Jonah Hill and musical guest Maggie Rogers will air on Saturday, November 3rd. We only wonder if Grande will come up in any more of the segments.