Pete Davidson got painfully real about his breakup with Ariana Grande on SNL last night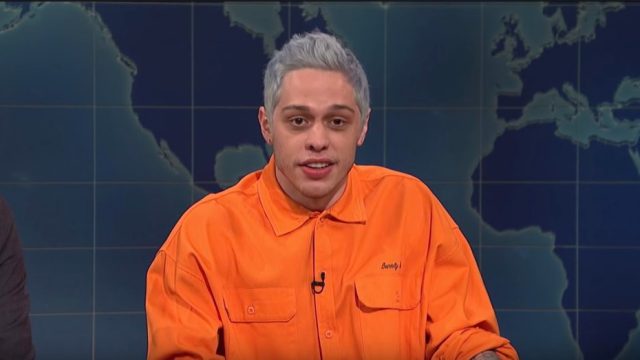 If there's one thing we know for sure in this life, it's that breakups are hard, which is probably why we have a lot of feelings about Pete Davidson directly addressing his split from Ariana Grande on the November 3rd episode of SNL.
In case you somehow missed it, the couple reportedly broke up on October 14th after a whirlwind romance and engagement. Sources at the time said it happened, "with both parties acknowledging that it simply was not the right time for their relationship to take off." Since parting ways, both performers have (kind of) publicly addressed the situation, with Davidson making a few jokes about it during an October 21st standup set, and Grande releasing a song entitled "Thank u, Next" on November 3rd about all her ex-boyfriends.
https://www.youtube.com/watch?v=5OeR5XBEahU?start=4&feature=oembed
And Davidson has now addressed the situation head on.
Appearing on "Weekend Update" to discuss the November 6th midterms, the comedian began by going through a run-down of the many candidates running this week. He started the segment by joking, "So, the midterm elections are obviously a huge deal, and after I had to move back in with my mom, I started paying attention to them."
After several minutes of jokes, Davidson concluded by simply looking into the camera and saying, "And the last thing I will say is, I know some of you are curious about the breakup but the truth is, it's nobody's business, and sometimes things just don't work out, and that's OK." He continued: "She's a wonderful, strong person, and I genuinely wish her all the happiness in the world. Now please, vote on Tuesday."
https://www.youtube.com/watch?v=ukbtA3df8BI?feature=oembed
It was a serious and authentic moment, and we're honestly getting a little teary-eyed. We hope both Grande and Davidson are doing okay, and—as Davidson said—please vote on Tuesday.