Pete Buttigieg explained what he wishes the "Mike Pences of the world" understood about his sexuality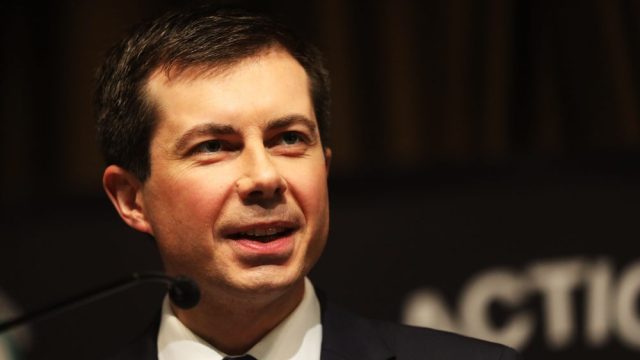 On Saturday, April 6th, Mayor of South Bend, Indiana Pete Buttigieg spoke at the LGBTQ Victory Fund Champagne Brunch. Buttigieg—the first openly-gay Democrat to explore a nomination for the 2020 presidential campaign—shared his coming out story and how his sexual orientation may ultimately affect his potential run for president. He also discussed his struggle to accept himself earlier in life.
"If you could have offered me a pill that could make me straight, I would have swallowed it before you could give me a swig of water," Buttigieg said. "It's a hard thing to think about now. If you had shown me exactly what it was that made me gay, I would have cut it out with a knife."
"Thank God there was no pill. Thank God there was no knife," he added.
Buttigieg came out in his early 30s during his run for reelection as Mayor of South Bend, Indiana—then under the governorship of Vice President Mike Pence. The mayor told brunch attendees that, at that point in his life, he had everything he wanted…except the idea of what it felt like to be in love. He said he eventually found the courage to live his truth after coming home from serving in Afghanistan.
Buttigieg—or, Mayor Pete, as his constituents call him—said that his marriage to husband Chasten Buttigieg "has moved [him] closer to God."
"That's the thing I wish the Mike Pences of the world would understand: That if you have a problem with who I am, your quarrel is not with me," Buttigieg said. "Your quarrel, sir, is with my creator.
This isn't the first time Buttigieg has rebuked Pence's anti-LGTBQ platforms, and it likely won't be his last. Buttigieg is rousing presidential campaign support during a time when more Americans than ever say they would be comfortable with a gay presidential candidate. Additionally, Buttigieg was reelected by more than 80% of the conservative South Bend community after coming out—which shows that times are changing (he's rumored to be officially announcing a run for the presidency on April 14th).
We're ready.