I tried Clinique's new customizable moisturizer to help fix my wishy-washy skin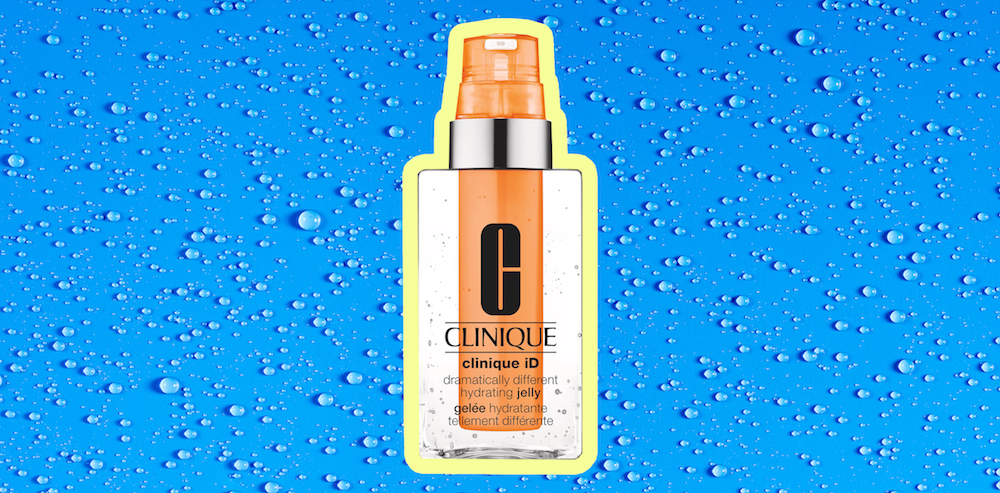 When I was a Clinique consultant for four years in college, one of the most frequently asked questions from clients was, "How come the yellow lotion doesn't do anything for (insert skin concern)?" Back then, the answer was that the moisturizer was meant to balance the oil and water in your skin before you applied your serums and other moisturizers, which were targeting your skin concerns.
But it appears that Clinique has heard its customers' cries for help, because they recently introduced Clinique ID, a custom-blend moisturizer that does what your skin needs. No longer will anyone need to ask why the yellow lotion doesn't do anything.
Even though there are 15 formulas to choose from, Clinique ID makes personalizing your moisturizer pretty simple. To start, you select a base (a moisturizer) that works for your skin type. Your choices: the Dramatically Different Lotion (for normal to dry skin), the Dramatically Different Gel (for combination to oily skin), and the Dramatically Different Hydrating Jelly (for all skin types). Next, you pick out a cartridge, which is what treats your skin concern. There are five total: irritation, pores and uneven texture, uneven skin tone, fatigue, and/or lines and wrinkles.
Clinique was gracious enough to send me a customized Clinique ID to review.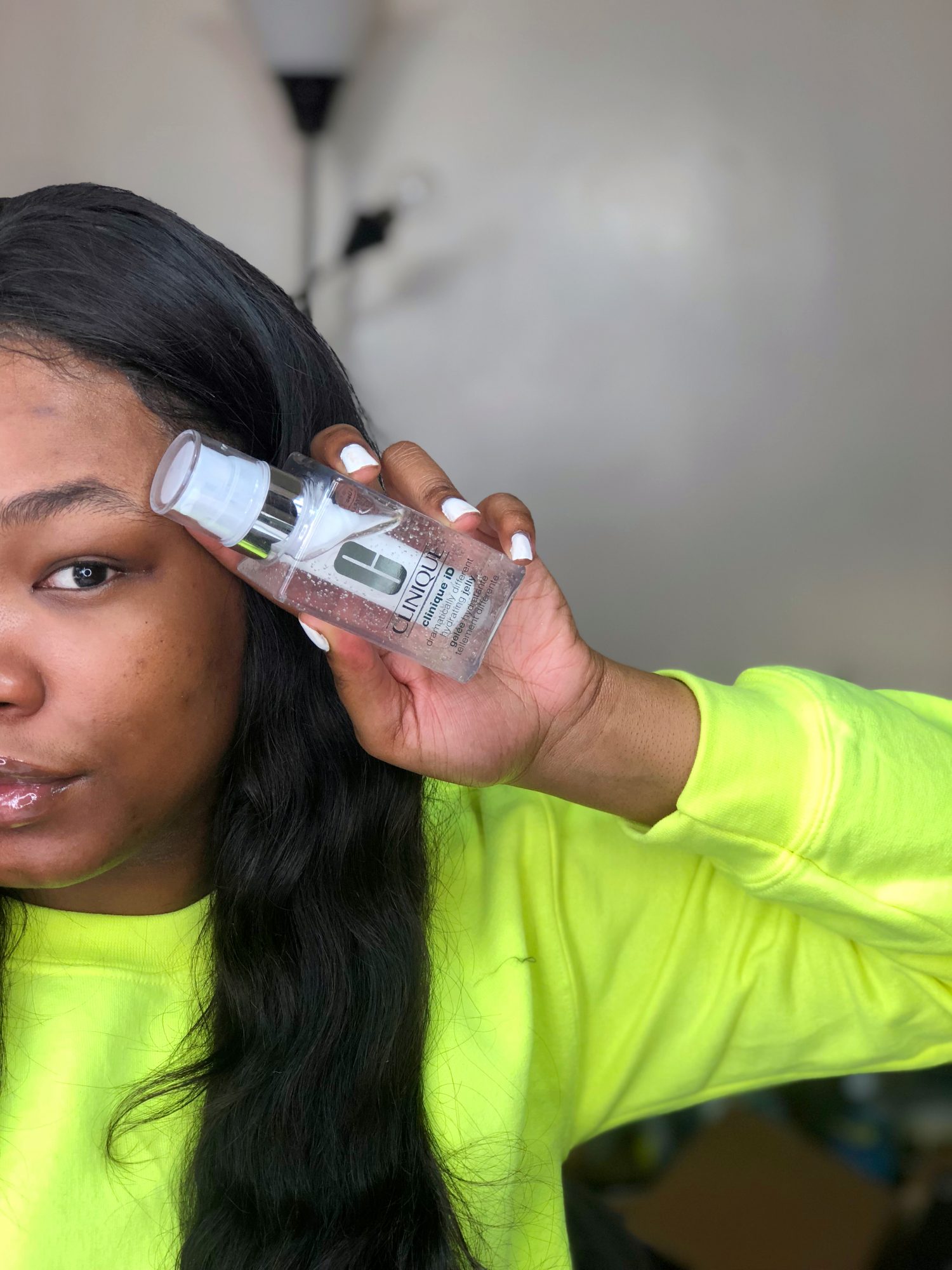 Because I once worked for Clinique, the launch of Clinique ID is both nostalgic and exciting for me. My dreams have somewhat come true with the Dramatically Different Hydrating Jelly, which is suitable for all skin types (and wasn't available during my time behind the counter).
My skin has a combination of dry, normal, and oily areas, so the Hydrating Jelly was the perfect base option for me. My main skin concern is dark spots (from past acne breakouts), so I selected the uneven skin tone cartridge to complete my custom Clinique ID. The cartridge I picked has Japanese angelica root to help even out the skin tone.
Sidebar: When you get the moisturizer, it will look like some of the base has been used. It's not filled to top so that when you add the cartridge, the moisturizer won't spill over. Makes total sense.
Here's what my skin looked like after cleansing and right before applying the Clinique ID moisturizer:
You can see some shine in my T-zone area, but everywhere else is either normal or dry. Around my mouth especially, my skin can become dehydrated, irritated, and discolored.
In the summer, I'm oily all over, but during the fall and winter months, my skin is mixed—which can be frustrating. I like the fact that the Hydrating Jelly works for all skin types. It can literally target every area of my face in the way it needs.
Compared to the traditional Dramatically Different Gel, this Hydrating Jelly feels less sticky.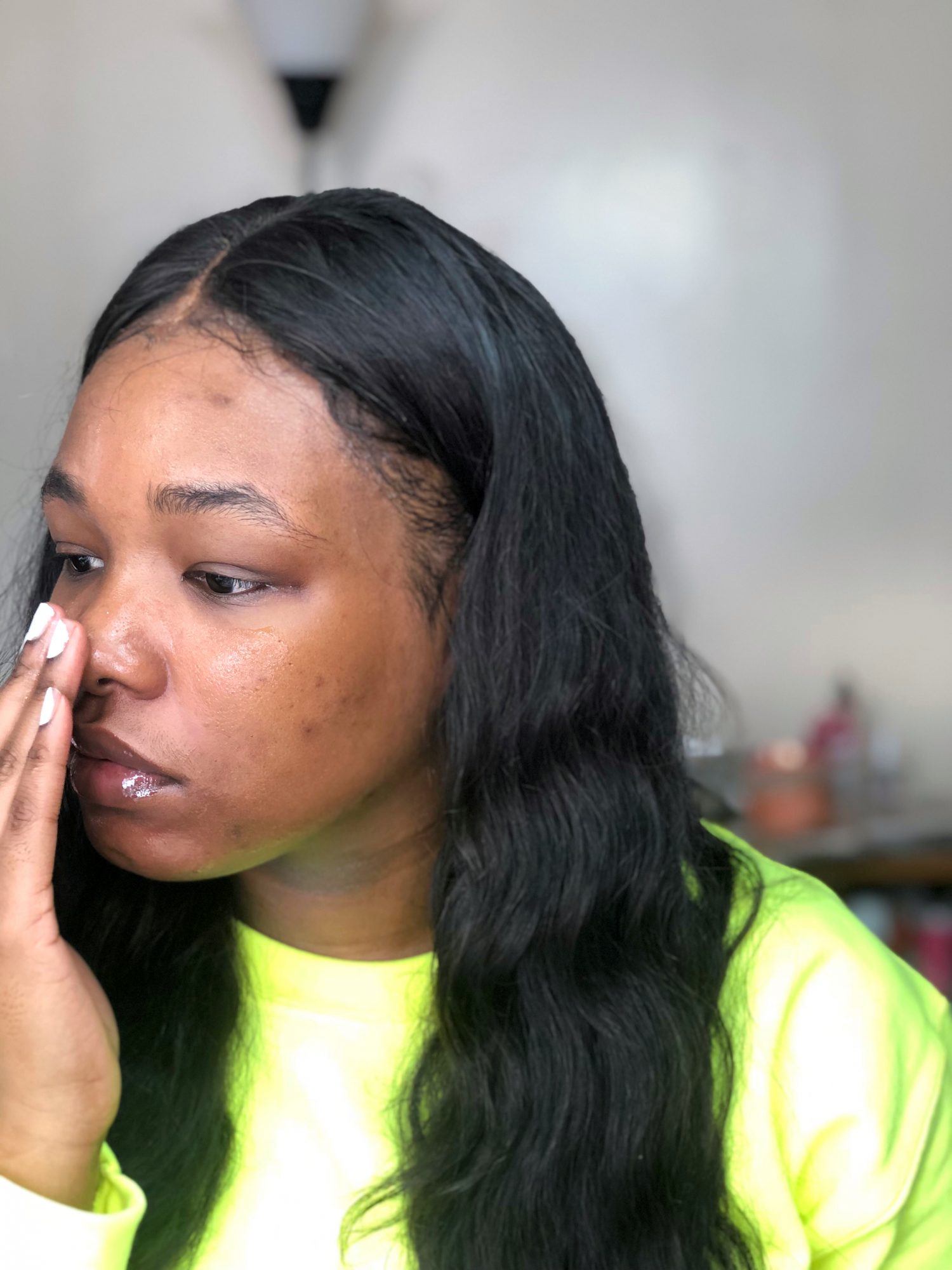 Even though I have oily skin, I was never a big fan of the Dramatically Different Gel. For people who have extremely oily skin, it seemed to work miracles. But it always made my skin feel dry and sticky. The stickiness is what drove me crazy because even though I would put another moisturizer on top of my skin, it still felt tacky. Honestly, I feel like this happens to me with most gel moisturizers. The Hydrating Jelly, however, doesn't make my skin feel sticky. If anything, it leaves it feeling hydrated.
My final thoughts
After I apply the moisturizer, my skin feels immediately felt hydrated and looked significantly brighter. I'm fully aware that my dark spots aren't going to disappear after one week of using it. Overall, I love that it gives me radiant skin—that was immediately noticeable. I'm looking forward to seeing what my skin will look like in a month or two.
I love that Clinique doesn't add fragrance to its products. My skin isn't particularly sensitive to fragrance, but it's nice knowing that my moisturizer doesn't have any extra "stuff" that my skin can do without. This lightweight moisturizer is great to wear under foundation, so I didn't have to worry about it disrupting my makeup.
If you're looking to try this customized moisturizer for yourself, Clinique ID is available on the brand's website for $39 (which includes both the base and cartridge).