These BTS prom photos of Emma Watson and the Perks of Being a Wallflower cast have us feeling infinite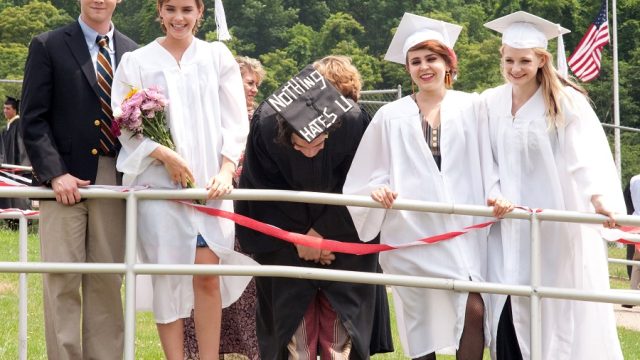 The 2012 film The Perks of Being a Wallflower started streaming on Netflix earlier this month, and star Logan Lerman has a little present for everyone who's been watching—or re-watching—the film. On April 23rd, the 28-year-old actor posted a series of behind-the-scenes pictures from The Perks of Being a Wallflower on Instagram. The black-and-white photos show the cast filming the scene of them heading to prom. The pictures were taken on a disposable camera, so they really are just a bunch of candid photos a group of friends took of each other.
"Thought I'd share some photos from the making of Perks," Lerman wrote on Instagram.
"They were taken on a disposable camera during the graduation sequence with the intention to use them for production design but now they serve as tokens from a very special experience."
The photos show Lerman, along with co-stars Emma Watson, Ezra Miller, Mae Whitman, Reece Thompson, Landon Pigg, and Erin Wilhelmi. The film doesn't have a full prom scene, so it's part of a montage that leads into a scene featuring the characters at graduation. As you can see, it looks like the actors were all having a great time behind the scenes, which is not exactly the case for their characters during much of the movie, since The Perks of Being a Wallflower is often really dark. Plus, this particular scene in the film has a voiceover about how Watson's character Sam's boyfriend is cheating on her. So, yeah, nice to revisit some lighter moments for everyone.
https://www.instagram.com/p/B_V9RcOhqfr
While fans are loving the pics—the post has over 700K likes—the cast is excited about them, too. Succession's Nicholas Braun, who played Ponytail Derek in the movie, commented, "Oh man!!" Nina Dobrev, who played the sister of Lerman's character, wrote, "Love these." Whitman posted, "Oh no I'm crying," and reposted some of the photos on her own account, writing in her caption, "just a few of the pics lil baby charm loggins posted of us from almost 10 years ago during our time filming perks. will cherish these memories forever :,)" And, now, the internet will, too.
Lia Beck is a writer living in Richmond, Virginia. In addition to Best Life, she has written for Refinery29, Bustle, Hello Giggles, InStyle, and more.
Read more