The period emoji is officially dropping later this year, and texting just became perfect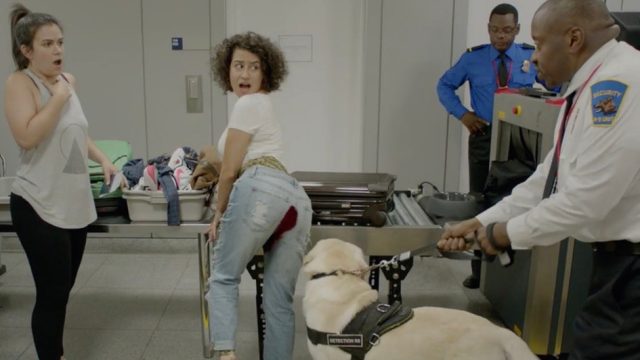 How many times have you needed a period emoji and it just wasn't there? When you need to text your significant other to bring home tampons. When you need to bail on plans because period cramps are a nightmare. When you ruin another pair of pants and gotta tweet about it. A period emoji would be so convenient and turns out, we're finally getting one.
Unicode, the entity that designs the emojis, confirmed that a "drop of blood" would be included in the Emoji 12.0 release. To be fair, Unicode created a drop of blood, so we guess it's an all-purpose blood emoji for use when texting about menstruation or…murder. But in the same way that the eggplant emoji has become synonymous with, well, you know—we're sure the new blood drop emoji will become the de-facto period icon.
This news comes after Plan International U.K. campaigned for years to get a period emoji in the hopes that it would help end the stigma surrounding periods.
"Women have told us that by having an emoji, it will make it easier for them to talk about periods with others and so that's why we're addressing the need and creating something that everyone can use. Hopefully, this will go some way towards breaking down the stigma surrounding periods once and for all, Lucy Russell, Head of Girls' Rights & Youth at Plan International UK said when she began the campaign.
Plan International U.K. claims the new period emoji will drop in March 2019, though Unicode says to expect it sometime late summer. Sure, we would have loved a cute little tampon emoji or, like, a blood stain with googly eyes, but hey, we'll take what we can get—whenever we get it.