What to do if you have your period at Coachella, because the bathroom situation may be questionable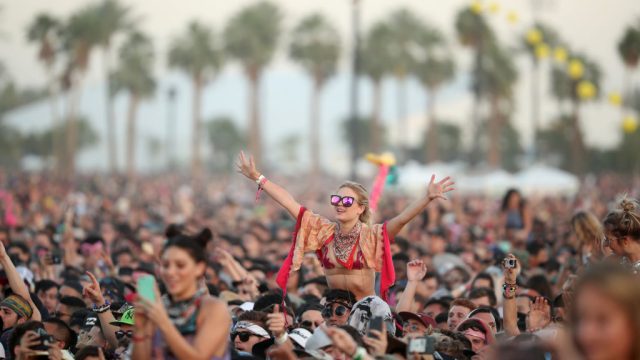 This year's Coachella is right around the corner (April 13th!) and for some women, so is that time of the month. Dealing with your period when you're going about your normal routine can be bad enough as it is. But dealing with your period (and all of its symptoms) when you're trying to have an amazing time at one of the biggest music events of the year? That seems like a cruel joke from the universe. 
Friends, we're here to assure you: You will be fine if you have your period at Coachella — as long as you come prepared.
"I'm bringing a lot of super tampons and Advil," Sarah, 23, tells HelloGiggles.
Sarah has been going to Coachella for the past five years, so she definitely knows a thing or two about what the bathroom situation is really like. If you've never been to the festival and are gearing up to go for the first time, you'd be surprised to know that it's not actually that bad.
"The bathrooms are actually pretty nice, considering the amount of people at the festival, she tells HelloGiggles. "If you are car camping, there are tons of Porta Potties within the campgrounds that are kept relatively clean and are cleaned each day. Inside the festival, there are also many areas with Porta Potties and a set of bathrooms with real plumbing that are also kept very nice. 
See? Not too bad (besides the long lines, of course).
Coachella is meant to be an amazing experience, especially when Beyoncé is involved. If you're going to make the effort to go and camp out in the desert for a weekend (or two), you should be having a good time. Don't let mother nature ruin it for you.
Here are some tips for making your period more manageable when you're at the festival.
1 Be prepared for long lines.
Although the cleanliness of the restrooms may come as a surprise, the number of people using them should not. As you would expect, the lines can get pretty long. But if you go during sets, Sarah says, it won't be as bad. 
2 Wear a liner just in case. 
No matter how much you prepare and time things out, you might end up stuck waiting in line for a toilet for a while. So as a precautionary measure, Jordana Kier and Alex Friedman, co-founders of organic feminine care product line LOLA, suggest tampon users wear a liner, too.
"Whether your cycle is heavy or light, wear a super thin and totally breathable liner that you'll barely even notice is there," they say. "You'll stay comfortable knowing that you're extra protected and will be able to enjoy the music worry-free."
You could also stock up on THINX menstrual underwear to wear as a backup method if you're worried about leaks.
As a reminder, you should always change your tampon every four to eight hours just to be safe.
3 Over-prepare.
Since it's inconvenient to leave the festival for a Target run, carry a few tampons or pads with you even if you feel confident you won't have your period while you're at Coachella. Molly Hayward, co-founder of period-care company Cora, tells HelloGiggles, "Even if you know that you don't need them, you'll almost surely make another woman's day."
Be sure to bring extra underwear, clothes, and pack some plastic bags for any dirty laundry.
4 Bring wipes.
"Bring eco baby wipes (eco do not have harsh chemicals, which you don't want to be using on your body) to keep your body fresh," integrative women's health care clinician Dr. Carol Louie tells HelloGiggles. 
Wipes not only help keep your body fresh throughout the day, but are useful for cleaning up any leakages that may potentially occur if you have your period at Coachella.
5 Limit the sugary drinks. 
When you're on your period, it's extremely important to stay hydrated by drinking a lot of water. If you can, Dr. Louie suggests staying away from drinks that contain a ton of sugar. "These can contribute to inflammation that will increase period symptoms," she says.
6 Go to the bathroom whenever possible, and when your friend goes, too. 
"It would suck to be in the middle of a huge crowd during a busy set and have to leave to go change a tampon," Sarah says. Besides that, she also says there's "very, very bad cell service." If you leave your group to go to the bathroom, it may be hard to find them again. So utilize the old grade-school buddy system and go to the bathroom together.
Having your period at Coachella can seem like the worst. But it really doesn't have to be. It's definitely manageable and you can still have a really good time. Enjoy it!