This performance of "The Neverending Story" theme song is the most '80s thing we've ever seen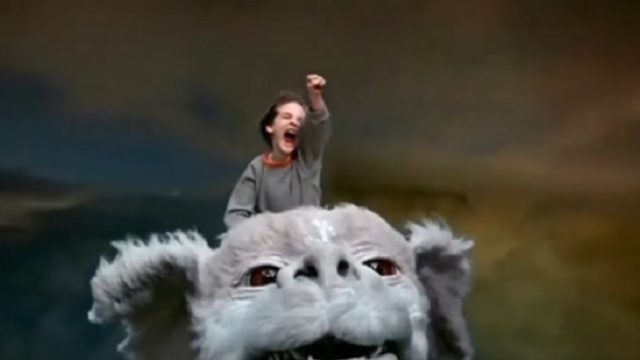 As any child of the '80s will attest, The NeverEnding Story theme song will always and forever be magical. In our humble opinion, it at least deserves a ranking among the top 50 movie songs of all time (although the official charts say otherwise, but whatevs).
With every listen, it leaves us feeling motivated and uplifted to abandon adulting for a lifetime of childhood carefreedom, but since we're not actually living in Fantasia, the most we can do at the moment is throw on some NeverEnding Story-inspired makeup and rock out to British singer Limahl's fantastically '80s live performance of the beloved theme song.
Apparently, Limahl released both English and French versions of the song, the former of which is shown in this throwback performance that we cannot get enough of. From the wonderfully cheesy Fantasia backdrop and Limahl's two-tone mullet to the strange hand and finger choreography he does with his co-performer and background singer Mandy Newton (who acts a stand-in for the song's other original vocalist Beth Anderson), we're in the throes of an unofficial '80s revival.
Get into it, y'all:
https://www.youtube.com/watch?v=TzE0Sq2-Yhg?feature=oembed
*sighs in nostalgia*
The only thing left to do at this point is to Google stuff about the film that we couldn't when it premiered in 1984 during Those Dark Days Without Internet. We suggest you start with the soundtrack by Klaus Doldinger and Giorgio Moroder, which is absolutely delightful.
https://www.youtube.com/watch?v=rvuteGIuAbc?feature=oembed
Ahhh, the memories. WHERE'S A LUCK DRAGON WHEN YOU NEED ONE?!
Good luck with trying to be productive, y'all. There's a YouTube hole filled with songs off The NeverEnding Story soundtrack waiting to take over the rest of your day.