That perfect iPhone photo from the Royal Christmas has a great story behind it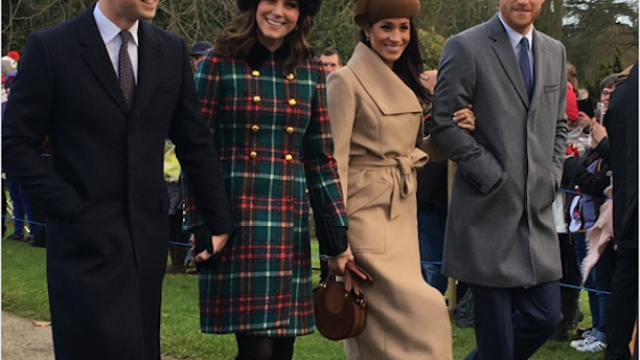 These days, everyone has an equal opportunity to capture a very famous picture. This week, it was Karen Murdoch, who shot the magic Christmas pic of the fab four royals at their holiday celebration. ICYMI Meghan Markle is going to be an official member of the Royal Family (she and Prince Harry are set to marry next spring!) and Markle and the Prince, alongside his brother Prince William and Duchess Kate Middleton, were strolling along on Christmas Day, much to the joy of many onlookers.
Using her iPhone, Murdoch snapped a picture of the four royals looking completely cozy and perfect for the holiday — and her picture is now being called one of the best of the day.
The pic quickly went viral, much to Murdoch's surprise and delight. Oh, the magic of an iPhone! Snapping pictures of the royal foursome just like everyone else in the crowd, Murdoch did not expect for her photo to turn out as perfectly as it did.
The newly famous photographer hopes she can use any money raised from the image to help pay for her daughter's education. Murdoch told BBC Breakfast:
"It was pure luck — I took it on an iPhone and it was a great photograph. The rest is history."
The rest really is history!
As discussion continues to circle around Markle and the Prince's upcoming nuptials, Murdoch's photo will surely be seen again and again.
false
And it really is a great picture. Check out Middleton's lovely Christmas coat and adorable fuzzy hat. Markle's style is already phenomenal, and now it's going to be talked about constantly — that combo of tan and brown is just darling. (The princes look cute too.)
Congrats to Murdoch! Make sure you and your iPhone are in the right place at the right time, and you too could become a part of history.