This Company Makes Bras For Small Boobs, And I've Never Felt More Comfortable In My Skin
Pepper's products are specifically designed to fit the curves of smaller chests.
Growing up, I believed that bigger was better when it came to breast size. Everywhere I looked, and everything I heard, perpetuated the idea that big boobs were good and small boobs were bad. If you didn't have cleavage, you weren't desirable—period. This notion was unavoidable: in the ads I saw on the way to school, in the whisperings of boys I liked, in the commercials I glanced at while flipping through channels, and, most shockingly, at the stores where I bought my bras.
As a 34A cup (and I mean, barely a 34A), bras have never seemed to fit me. When I first started wearing them, cute bralettes weren't a thing and every bra had an underwire I didn't need. Most of the offerings for smaller cup sizes were designed to make you look bigger—it was a right of passage to own a Victoria's Secret Wonderbra that made you look two cup sizes larger than you really were, which I admittedly owned and used religiously to try to make my body look like something it was not. When I'd wear a bra, there would be an empty gap on the inner top part of it to remind me how small I was. Over time, I grew frustrated and self-conscious. I knew I'd never be a Victoria's Secret model, but it was deflating to know that I couldn't even fill a 34A.
As I grew into adulthood, this insecurity came and went in waves. On one hand, I was a lot more confident in my skin and had invested in some really cute bralettes, but on the other hand, I still felt an underlying sadness whenever I wanted to buy a cute bra that didn't come in my size (cough cough, La Perla). I had pretty much given up hope of finding a bra that would fit my small boobs until recently, when I discovered Pepper—a brand that focuses on making bras specifically for small cup sizes.
Pepper only makes bras for cup sizes 32AA-38B, meaning that its products are specifically designed to fit the curves of smaller chests. According to the brand's site, most companies design bras with a 36C in mind as the average size; from there, they either shrink the bras to fit smaller chests or enlarge them for bigger busts. This is what leads to uncomfortable fits and space gaps that so many small-boobed ladies like myself experience when wearing traditional bras.
To test Pepper out, I got two bras: the Limitless Wire-Free Bra and the All You Bra. The Limitless Wire-Free Bra feels like your favorite pair of yoga pants, but for your breasts. It has thick straps, full-coverage cups molded with a shallower depth than usual to prevent space gaps, and ultra-soft fabric that feels comfy enough to be pajamas. The All You Bra has a little bit more of a traditional bra shape, but don't let that fool you—it feels completely different than most "regular" bras. Its underwire is in more of a "J" shape than the "U" shape found in bigger bras, and this helps to hug your smaller curves and give them a more supported feel. Plus, it's really cute, and the mesh makes it a little sexy.
Both bras fit a little more snug than what I was used to with traditional bras, and while that initially made me second-guess the brand, I quickly realized that that's how bras are supposed to fit—and they were so comfortable!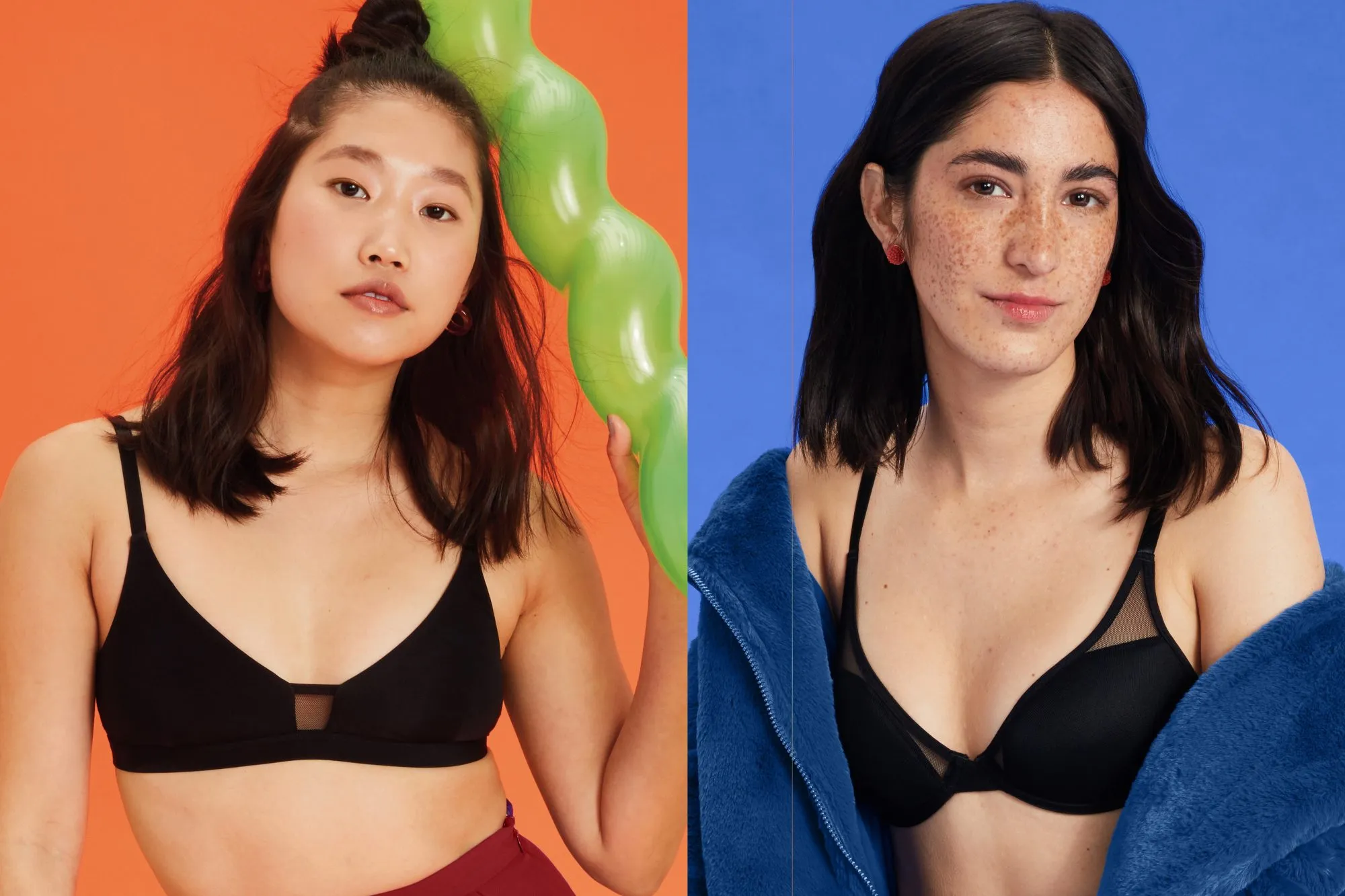 Shop it! (left) $48, wearepepper.com; (right) $49, wearepepper.com
I can't believe it's taken nearly 29 years for me to find a bra that actually fits my small boobs, but I'm so happy that a brand like Pepper exists for the Itty Bitty Titty community. I've only been wearing the bras for a week, but they're already making me feel happier and more comfortable—on a deeper level, I feel validated, too. I'm no longer being told that my boobs need to look bigger. Instead, Pepper is celebrating my small chest. For the first time ever, I feel like a bra company sees me and caters to my body.
Additionally, Jaclyn Fu, the co-founder of Pepper, shared over the phone that the company makes their products in a mindful way. All of the bras are made in Medellin, Colombia (where her co-founder Lia Winograd is from) in a factory where 85% of the employees are women, and the brand prioritizes hiring single mothers. Plus, the factory uses high-tech machinery that minimizes water waste, and all the fabrics come from Colombia to minimize the ecological impacts of importing textiles.
I love wearing clothes from companies that do good, and Pepper more than fits the bill. Not only is it doing its job in being eco-conscious and supporting women, but its bras have helped me feel better about myself, too.