For people with disabilities, the internet makes protest accessible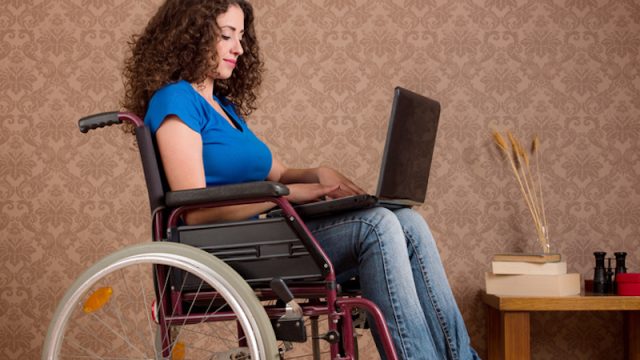 At the end of June, my city participated in the Families Belong Together protests, a national movement challenging the Trump administration's immigration policies and denouncing the separation of over 2,000 children from their families. Hundreds of thousands took to the streets in protest. Though we had only been marching for a short time, the hot Texas weather began to diminish my energy. Steadily chanting pro-immigration slogans was giving me a sore throat, but I knew the pains that would follow the next day would be much worse.
Diagnosed with Fibromyalgia since my late 20s, my overstimulated body was already feeling fatigue that would impact me for days. This sudden onset of pain intensified my feelings of anxiety, creating a tightness in my chest that was almost suffocating. I knew the toll that marching through downtown would take on my body, but I still opted to do it because I could.
But for millions of people with disabilities, they are not able to be the "boots on the ground" in a movement — and their work proves that there isn't just one way to be an activist.
Between the separation of thousands of immigrant children from their families at the border, the Supreme Court's vote to uphold the Muslim travel ban, and the Supreme Court nomination that will determine the future of civil rights in this country, there is no shortage of concerns for our country. These issues are enough to make anyone want to do something — ANYTHING — in order to feel that they are making a difference. Attending a protest would seem like a substantial way to fight back, but that isn't an accessible route for everyone. Still, it's possible to not only be involved in activism, but to collaborate, organize, inform, and inspire people all around the world.
Through online communities founded on social media, activists with disabilities have created platforms for their causes and are resisting injustice.
The disabled community has a long history of having to fight their own battles. Forced to demand their due healthcare, challenge the employment gap, and fight for transportation access and special education, it was only natural for the community to adopt other global issues. And many of the issues that other activists take on directly also uniquely impact the disabled community — a demographic that is roughly 10% of the total world population.
For example, a push to ditch plastic drinking straws has recently gained more popularity — so much so that companies like McDonald's have vowed to phase them out to limit impact of plastic waste. Though this movement's concerns are valid, it excludes the many disabled individuals who need to use these utensils because of their physical limitations. And this exposes a key concern: Keeping activism open.
The internet acts as the perfect conduit for disabled activists because of its open availability. Thanks to the convenience of the internet, activists are able to fight the good fight anywhere there is a wifi connection, as opposed to risking a journey that not all can easily make.
Though people with physical disabilities can be limited in what they are able do, their minds are still as active and perceptive as ever. They may not spend time holding up protest signs or marching on Capitol Hill, but activists use the boundless potential of social media to execute vital tasks like setting up protests, town halls, community events, and educational seminars.
Unfortunately, not everyone acknowledges these online activists as true freedom fighters, despite their work resulting in trending hashtags and the spread of information,
Labeled "slacktivism" or "armchair activism," online activism sometimes carries the stigma of being insincere, lazy, and a fad.
In 2017, that sentiment was mistakenly reaffirmed. Led by actress and social activist America Ferrera, a panel entitled "#ActivismIRL" — or activism in real life — had the intention of helping social movement participants move away from the internet and do good in the real world. Though it wasn't purposeful, the panel's language was considered ableist by people in the disabled community. It insinuated that there was a clear line between online activism and "real activism." As if our disabled lives, with their unique sets of struggles and experiences, are less real than abled ones.
Regardless of public opinion, numbers don't lie. In 2018, social media usage grew to 2.5 billion people worldwide. That equals a vast audience for the next wave of justice campaigns and resistance activism.
We will no doubt continue to have many, many more reasons to stand together and protest. And whether the voices leading those movements come from a megaphone or from a tweet, they can be just as powerful.