Some people are upset about Emma Stone's Best Director comment, and we get it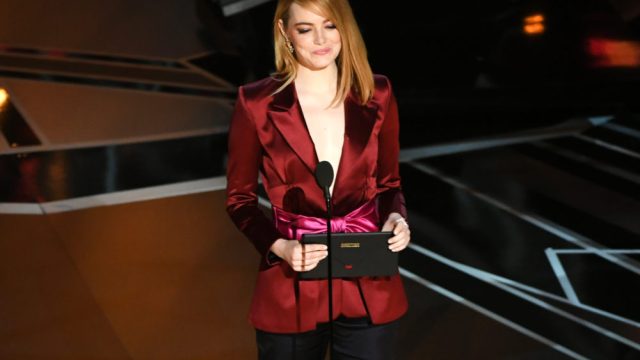 If you tuned in to the 2018 Oscars, you probably saw the moment when Emma Stone called out the male-dominated Oscar nominees for Best Director. Just like Natalie Portman did at the Golden Globes, the La La Land star made a pointed comment about the vast gender disparity in Hollywood. Her remark did not go unnoticed by Oscars viewers – but while many praised Stone for speaking her mind, others were (understandably) upset that her comment failed to recognize the several people of color who were also nominated.
"These four men…and Greta Gerwig [pause for dramatic effect], created their own masterpieces this year," Stone said on the Oscars stage, receiving overwhelming applause and cheers in response.
In case you missed it, the nominees for Best Director were Guillermo del Toro for The Shape of Water, Christopher Nolan for Dunkirk, Jordan Peele for Get Out, Greta Gerwig for Lady Bird, and Paul Thomas Anderson for Phantom Thread.
A number of viewers were quick to point out that Stone overlooked the significance of Peele's nomination; he was the only African American director in the running and only the fifth black person to ever be nominated in the category. Others pointed out that her comments were disrespectful to Best Director winner del Toro, who discussed his own experience as a Mexican immigrant during the awards show. Many couldn't help but feel as though the comment had a distinct "white feminist" feel to it (aka a woefully non-intersectional perspective).
Here's what people had to say via Twitter.
Some even called out the actress for working with director Woody Allen.
https://twitter.com/udfredirect/status/970623900580270081
While we understand what Stone was attempting to do — after all, the industry is notoriously male-dominated, and Gerwig's achievement as a first-time female director is incredible — we also completely understand why some felt as though the comment detracted from the significant achievements of the other nominees in this category.
At the end of the day, we're just thrilled that so many underrepresented voices were at the table this year, and we hope to see so much more of that in the future.