People are talking about the confusing Photoshop fail in Selena Gomez's Instagram selfie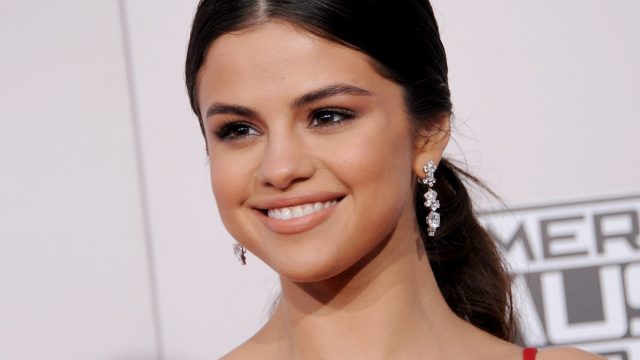 We all know that Selena Gomez is beyond beautiful and is no need of Photoshop. But one picture floating around the internet this week is raising the eyebrows of skeptics. Celebrity makeup artist, Hung Vanngo, posted a photo of Gomez on his Instagram on Friday, ending the caption of the pic, #secretproject.
Of course fans went wild about the thought of a secret project. But other fans went wild about the confusing Photoshop fail in the Gomez pic. No, there's nothing fishy about her perfectly made up face.
It's the warped metal doorframe by her shoulder that has us all concerned.
https://www.instagram.com/p/BPL_iA7Bnc8
For anyone who's seen a Photoshop-gone-bad can verify that this bump in the wall is a telltale sign of a digital touchup. But what was the culprit trying to touchup? Perhaps her shoulder seemed a smidge "too broad." Or maybe her hair fell flatter than Vanngo would have liked. It's truly a mystery that the internet cannot crack.
The frustration is eating away at Selina fans the longer they go without answers.

Supposedly Vanngo has posted edited celebrity pictures before, only to reveal the untouched pictures later. Fans remember, Vanngo.

We're not sure if this comment is in response to the Photoshop or the fact that Gomez looks absolutely stunning in the photo, but either way, we agree.

Perhaps the Photoshop was an attempt to hide something lurking in the songstress' hair?

We may never know the reason behind that funhouse-looking door. But let's take comfort in the fact that the failed Photoshop was just on a door, and not on the unblemished face of Selena Gomez.