The people of Trump's "sh*thole countries" are firing back on Twitter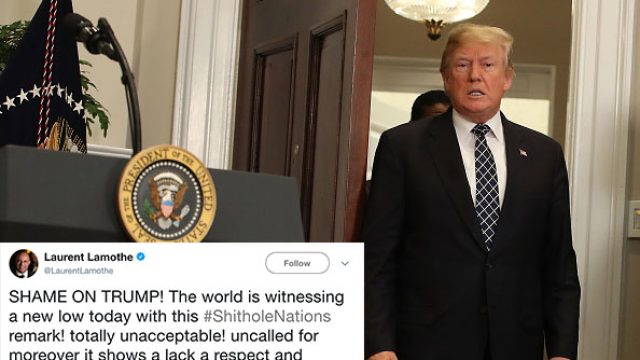 In the latest instance of President Donald Trump's inflammatory language, the president called several nations "shithole countries" in a meeting about immigration on January 11th.
According to the Washington Post, during a meeting to replace the Deferred Action for Childhood Arrivals (DACA) program, the president questioned why the United States would want immigrants from "shithole countries" like El Salvador, Haiti, and African nations. Trump later denied the remark in a January 12th tweet, but Senator Dick Durbin, who was present at the meeting, confirmed that the president had indeed made it.
Trump's comment was widely condemned as offensive. A spokesperson for the U.N. described the remark as "racist."
"You cannot dismiss entire countries and continents as 'shitholes', whose entire populations, who are not white, are therefore not welcome," U.N. human rights spokesperson Rupert Colville said at a Geneva news briefing.
And people from these so-called "shithole countries" took to Twitter to show the president just how wrong he is.
Some pointed out how much people from "shithole countries" have done to contribute to the United States. false
Others pointed out how beautiful these countries are.
And one expat from Norway condemned Trump's comment, too.
Officials from the nations Trump had criticized spoke up as well.
Former Haitian Prime Minister Laurent Lamothe condemned Trump's comment as "a new low." false
And the president of El Salvador, Salvador Sanchez Ceren tweeted in Spanish that Trump's comments had "struck at the dignity of Salvadorans," according to The Guardian.
The president of Senegal spoke up as well, saying he was "shocked by the words of President Trump," according to a retweet translated by NBC.
Trump's comments about countries populated by people of color is incredibly offensive. And while it's not all that surprising that the 45th president would say something that causes people, including CNN anchor Don Lemon, to call him racist, we still need to speak up against this hateful rhetoric. We stand by the people of Haiti, El Salvador, and the African continent.