People seem to think Jennifer Aniston's necklace is a message to Brad Pitt and Angelina Jolie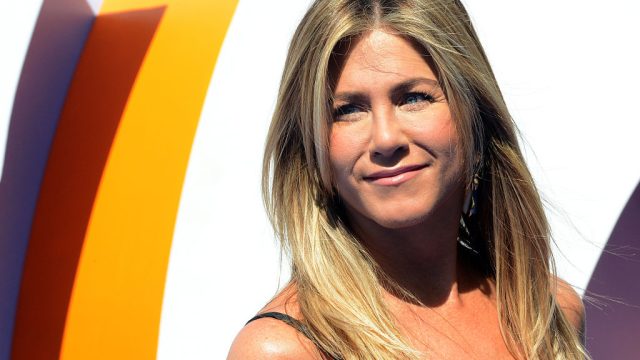 Fairly or unfairly, everyone knew that all eyes would be on Jennifer Aniston as soon as Angelina Jolie's decision to divorce Brad Pitt was announced. The Brangelina split was painful on a number of levels – the 12-year-long relationship was, quite honestly, the quintessential Hollywood love story. They built a beautiful family together, and we felt absolutely awful hearing all of the terrible allegations and rumors in the aftermath of the news breaking. Aniston – being Pitt's ex and the subject of many a "Team Jen" shirt in the aftermath of Pitt leaving his marriage to Aniston for Jolie – was cast in the role of "vindicated ex-wife." Which, agh.
Jen has yet to publicly comment on the divorce (and she doesn't have to!), but the internet stepped in to do that for her. Twitter was flooded with memes and gifs of various Jennifer Aniston characters "reacting" to the news in an assortment of gleeful ways within hours of the news breaking.
Now, in the aftermath of her silence, people are taking any and all opportunities to read into literally everything Jen is doing, interpreting anything at all as commentary on the demise of Brangie. This time, it's a necklace.
Us Weekly was the first to report on Aniston's evil eye necklace, which she was spotted wearing while strolling around in Manhattan yesterday.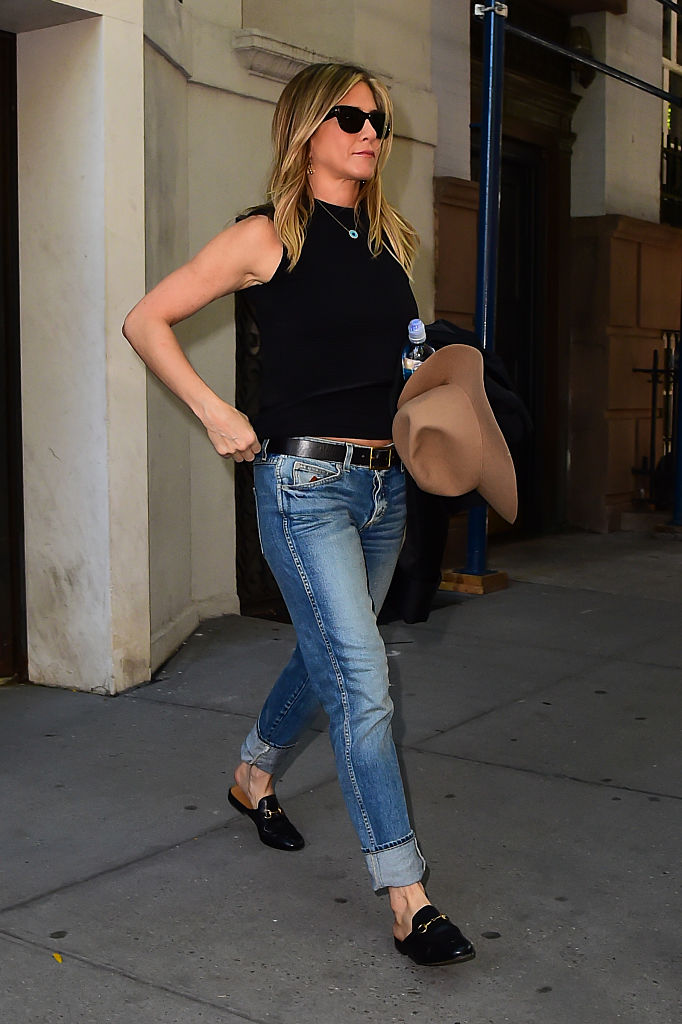 It's a bit tough to make out in the photo, but jewelry designer Jennifer Meyer shared an Instagram post pointing out that Aniston was spotted in NYC wearing the "JM Evil Eye," a turquoise evil eye necklace with a lapis center retailing for $3,550.
Naturally, as soon as folks realized it was an evil eye pendant, the theories began accumulating, with many believing that the choice of necklace was some kind of direct commentary on the Brangelina split. Perez Hilton also reported on the necklace, suggesting that the pendant, which are popularly thought to protect the wearer from a curse, was meant to "ward off evil spirits."
Various cultures have different meanings for the symbol. Obviously, the most likely scenario is that Jen is wearing a cute and trendy piece of jewelry that she owns (and that pairs really well with her simple black sleeveless shirt, jeans, and loafers outfit), without having put deeper thought into it.
But so what if she's wearing the necklace to ward off the bad vibes she knows are coming her way in the aftermath of the Brangelina divorce? She, quite literally, has all eyes of the public on her. Certain individuals of Greek (as well as Middle Eastern, and Northern African) origin do believe in the symbol as a way to ward off bad vibes.
Whatever the reason for Aniston's accessory choice, I think we can all agree on one thing – she looks great and super happy with her husband Justin Theroux! And in the end, that's the most important part.