People revealed its "Beautiful Issue" cover star, and we're SO stoked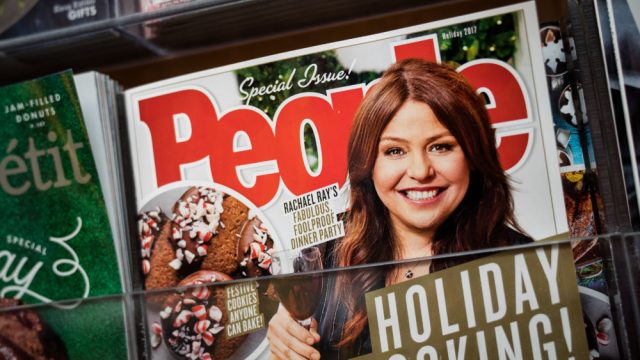 Every year since 1990, People Magazine has celebrated the "most beautiful" celebs in Hollywood in their annual "World's Most Beautiful" issue. But this year, they're changing things up, because People has renamed the issue from "Most Beautiful" to simply the "Beautiful Issue," celebrating all the qualities that make each featured person unique.
To kick off the magazine's empowering new message, they've chosen their cover star, and she's someone that we've had a crush on since the early 2000s. She's gorgeous on the outside, sure, but it's her talent, strength, and honesty that we admire most. This year, Pink graces the cover of People's Most Beautiful issue, posing with her six-year-old daughter Willow and her 15-month-old son Jameson.
In true Pink fashion, she hilariously responded to being on the cover of the magazine, telling Ellen DeGeneres that she "laughed out loud" when she heard the news. She joked, "I feel more beautiful and I've decided that for the whole week that the magazine is out no one is allowed to look me directly in my eyes."
When she got the call, she says she "immediately turned to whoever was in the room and said, 'Did you ever think this was as good as it gets?'" Aww!
So while she may have been surprised by the news, we aren't. Pink has been unapologetic about being her most authentic self since she debuted on the scene with her signature hot pink hair back in 2000, and she has always embodied all that "beautiful" means through her music, her message, and simply by being herself.
And the cover itself is perfect, though Pink joked that the honor was given to her thanks to her little ones. She told Ellen, "I think, honestly, it was Jameson and Willow that secured that deal for me. I'm wondering if in 20 years if Jameson's gonna be upset about his first cover. I mean, it's pretty good," joking about his adorable open-mouthed pose.
The singer says she tries to let her kids know how beautiful she thinks they are, and reveals that she's hoping perceptions of beauty continue to widen. She told the magazine, "I don't think my 13-year-old self would listen, but I love the way things are changing. And I love that our perception of beauty has completely been knocked on its head. There's nothing wrong with beautiful and there's nothing wrong with beautiful on the inside, beautiful on the outside. It's all different shades, it's all different sizes. It means whatever it means to you."
She added, "I think on one hand my sense of humor is the best part about all of it and on the other hand, it's a wonderful time that we're celebrating all different kinds of people." We completely agree! Congratulations, lady!