People are losing their minds over this Instagram of a person's legs
A photo of a Hunter Culverhouse's legs is tearing apart the internet today. Yup. Legs. Call it #TheDress all over again, but this Instagram photo is stressing people out like whoa. While the photo had been posted to Instagram three days ago, it appears that the user (leonardhoespams) posted it once before. They write, "remember when i posted this and it got 600 likes almost and 157 comments?" Apparently, people began pulling the photo and turning it into memes. The image, which literally is just this person's legs with some kind of white cream smeared on them, has resurfaced again (now it has over 6,500 likes and over 800 comments), thanks to Buzzfeed. And people are having NO CHILL ABOUT IT.
Wondering why? Well, what do you see on first glance?
https://www.instagram.com/p/BL6VAH2g8tM
If it's a pair of shiny, oily, or plasticky-looking legs, you're not alone.
false


But in fact, the legs aren't shiny. The photo is merely an optical illusion.
We're prepared to solve the mystery for you, but get ready for it. Because once you know the truth, the photo will never appear the same again.

Are you fully prepared?
The legs are actually just covered in white paint.
IT'S WHITE PAINT, YOU GUYS.
*Mind blown.*
As is always the case in these ~crazy~ situations, some eagle-eyed viewers saw the stripes right away.
https://twitter.com/udfredirect/status/791323127288623104
false


But don't feel bad if you were #teamshiny. A lot of people are depressed now that the illusion has been spoiled.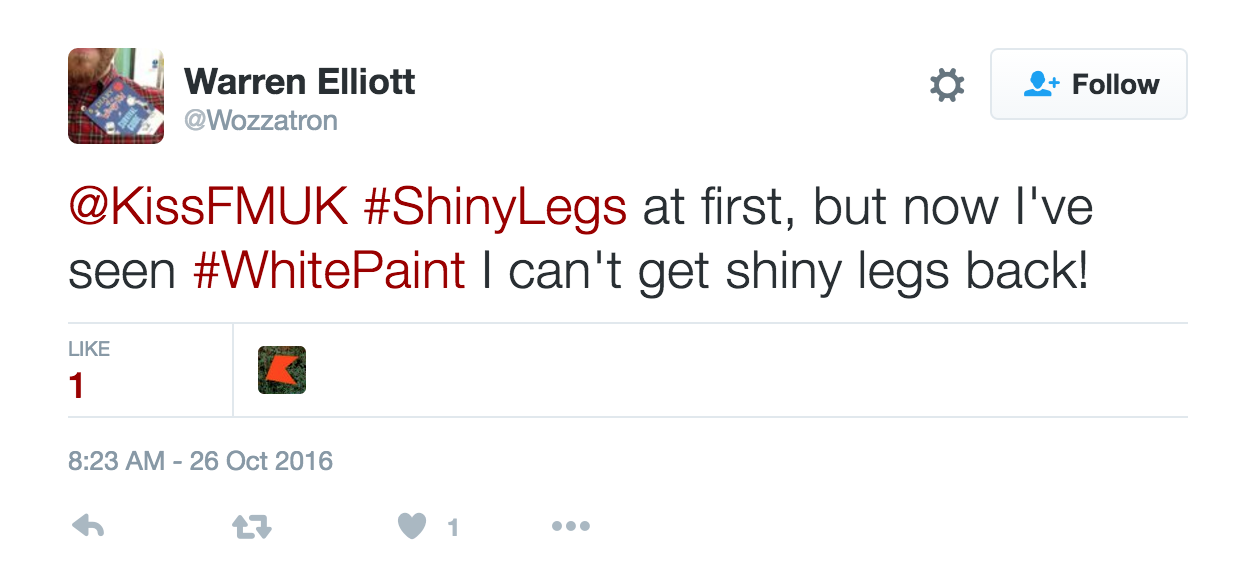 If you saw shiny legs before and wish you could get that feeling back, it probably won't happen (sorry). But you could always keep the secret from your friends and let them live in shiny-leg bliss.
And if you really need a shiny leg fix, allow this Twitter user to assist you.
We all feel a little better now, don't we?