People are getting bee tattoos to honor Manchester victims, and they've raised thousands of dollars doing it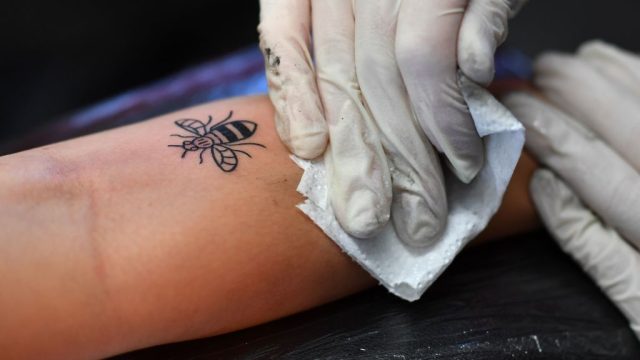 It's been just a week since the tragic bombing after the Ariana Grande concert in Manchester. But like other cities after terrorist attacks, the people of Manchester are coming together to show their support. In this case, people are getting bee tattoos to honor Manchester victims, which is the most unique — and permanent — way to show their love and raise funds for the victims of the attack. The worker bee is a symbol in Manchester and can be found on buildings and clock towers all over the city, which is why a group of Manchester-based tattoo parlors thought it would be the perfect tattoo for people who wanted to help out and didn't know how.
Tattoo artist Sam Barber set up the Manchester Tattoo Appeal with the goal of raising £50,000 for the victims' families, but so many people have been lining up at over a dozen parlors that it might be even more. The Sorry Mum Studio in Prestwich (which is in the northern part of the city), have already raised £11,500. All of the artists in that shop have gotten the bee tattoo themselves and people lined up in the rain all weekend to pay the suggested £50 for the tattoo. Although most of the parlors are Manchester-based, there are other ones all over the United Kingdom that are joining in on the drive.
There will be SO MANY people with the same tattoo for the Manchester bombing victims.
Lee Smith, a 25-year-old technician, told BuzzFeed News,"My girlfriend's sister was there, two floors away from where it happened, and one of the lads who died lived around the corner from me, and my sister went to school with Olivia Campbell [one of the victims]." He added, "I was going to get one anyway so it's nice, it's good."
Another person, Natalie Bicknell, 31, got the bee on the back of her neck. She said that she's lived in Manchester for ten years and that the city's become a second home to her. "It's a great city, and it's amazing the way everyone has come together. The amount of people who will have this tattoo is something so significant," she said.
It's a definitely a great way to memorialize the victims and help their families.