People are calling out Justin Timberlake's hypocrisy at the 2018 Golden Globes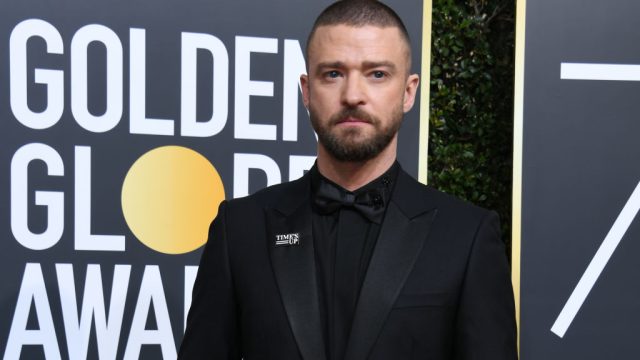 The internet is all about the 2018 Golden Globes tonight, talking about everything from the activists actors have brought to the thoughtful responses from them. They're also talking about Justin Timberlake's hypocrisy. Let's rewind. From the moment stars began arriving on the red carpet, it was clear that the 2018 Golden Globes weren't going to be your typical awards show. Instead of the tired "Who are you wearing?" question, actresses and actors have been asked about the #MeToo movement, as well as the launch of the groundbreaking Times Up campaign. Almost all attendees — both men and women — are dressed in black to protest sexual harassment in Hollywood.
Justin Timberlake posted a photo of himself wearing a jacket with the words "Times Up," accompanied by the hashtag #whywewearblack. He was also interviewed with his wife Jessica Biel on the red carpet while proudly wearing his pin and all-black ensemble. We're all about displays of solidarity, but there's just one problem — Timberlake stars in Woody Allen's latest film Wonder Wheel.
Needless to say, plenty of people aren't here for hypocrisy when it comes to the issue of sexual misconduct.
false false
The Harvey Weinstein sexual harassment allegations were reportedly an "open secret" in Hollywood — but allegations about Allen's sexual misconduct have been public knowledge for decades and, even lately, he's inexplicably been spared. Allen's daughter, Dylan Farrow, has maintained for years that her father sexually assaulted her when she was just seven years old, an allegation that has been corroborated by three adults under oath.
In December, Farrow penned an op-ed for The Los Angeles Times in which she criticized the #MeToo movement for being "selective." Actors and actresses have scrambled to distance themselves from Weinstein, but have continued to work with and praise Allen.
Farrow pointed out that a few of the same actresses who slammed Weinstein, including Kate Winslet, Blake Lively, and Greta Gerwig, have not only worked with Allen but have dismissed questions about his misconduct by saying they don't know much about the allegations or the veracity of those allegations.
Like Weinstein, Allen hasn't been convicted of any crimes — but Connecticut prosecutor Frank Maco went as far as to publicly state there was enough evidence to file charges and he chose not to because he didn't want to put Farrow through an "exhausting trial." Earlier this week, Washington Post reporter Richard Morgan detailed decades worth of Allen's private notes and reached a conclusion that will surely shock no one: "He's obsessed with teenage girls."
Anyone who takes a strong stand to say they believe women needs to practice what they preach, and it's astoundingly hypocritical to position oneself as an ally while continuing to work with one of the most problematic men in Hollywood.
Timberlake hasn't addressed his working relationship with Allen or expressed regret that he participated in Wonder Wheel. Anyone can wear black and declare they're an ally, but actions speak louder than jacket stitching.