Penn Badgley and Domino Kirke Welcomed Their First Baby Together—See the Cute Pic
"Pregnancy after loss is a whole other thing," Kirke said in February.
Congratulations are officially in order for YOU star Penn Badgley and Domino Kirke because the couple just announced they welcomed their first baby together. Kirke shared the happy news on Instagram over the weekend, and she included the sweetest pic in her Story.
Kirke first shared a photo to her feed on Sunday, September 20th of a personal keepsake noting her baby's birth: a placenta art print, which was likely made by using her newborn's placenta and umbilical cord and painting on acid-free paper. Kirke captioned her painting, a red uterus, "his heart shaped home," adding #40dayspostpartum and #placentaart to allude to the day she gave birth, likely sometime in August.
Though she didn't give any more details (like baby's name), she also shared the first glimpse of her brand new addition on Instagram Stories, and it's truly precious.
Kirke shared a picture of herself snoozing with her new baby swaddled up next to her, and it's the little dose of sweetness your Monday needs.
There's even a glimpse of the couple's dog, Terrance, buried underneath the covers, so it really is a perfect family snuggle moment.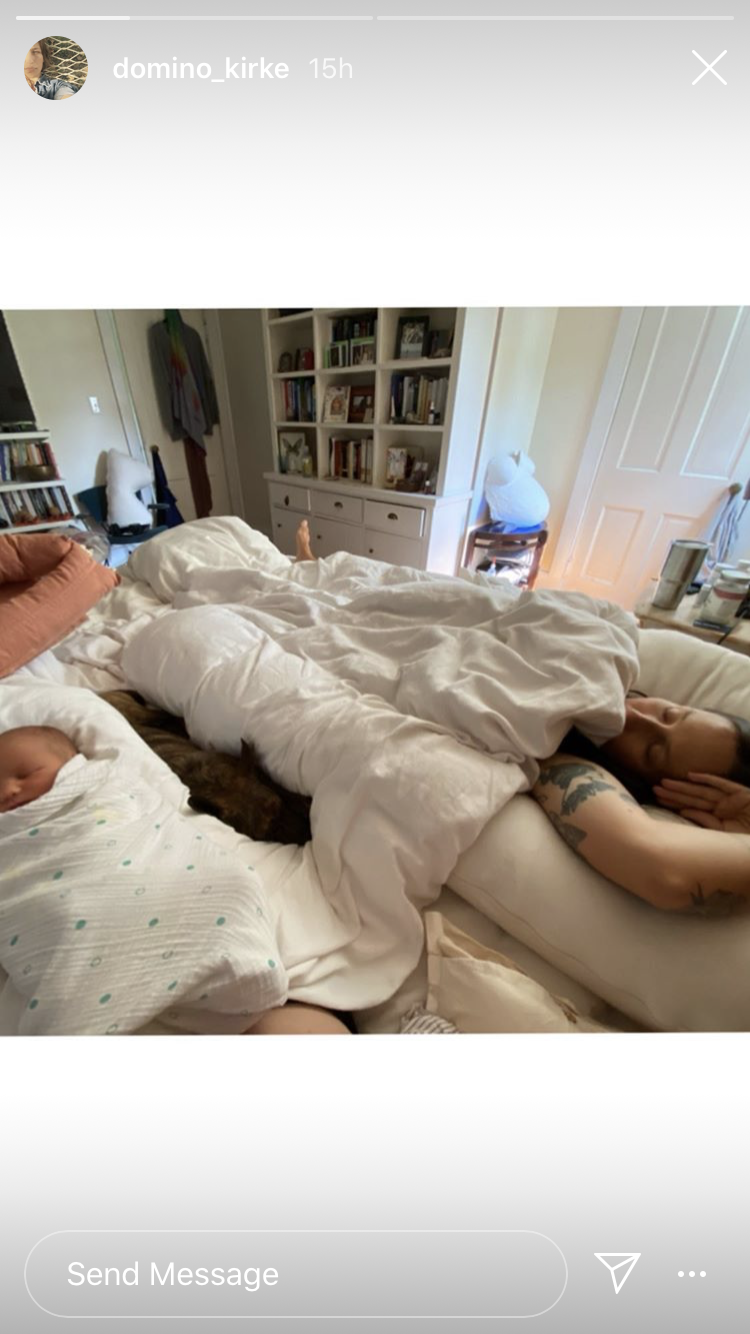 This is the first child for YOU star Badgley, and Kirke has 10-year-old son, Cassius, from a previous relationship. They welcome their new baby after Kirke, who works as a doula, revealed she experienced two miscarriages and that they were "ready to call it" and stop trying to have a child together.
Back in February, she shared a photo of her pregnant stomach and wrote in her caption, "pregnancy after loss is a whole other thing. After two miscarriages in a row we were ready to call it. I stopped trusting my body and started to accept the fact that I was done."
Here's hoping that she had an easy and safe delivery and that mom, dad, and baby Badgley are doing well. We can't wait to see more photos of their precious little one.