Penélope Cruz and Jimmy Fallon took their Dubsmash powers to the next level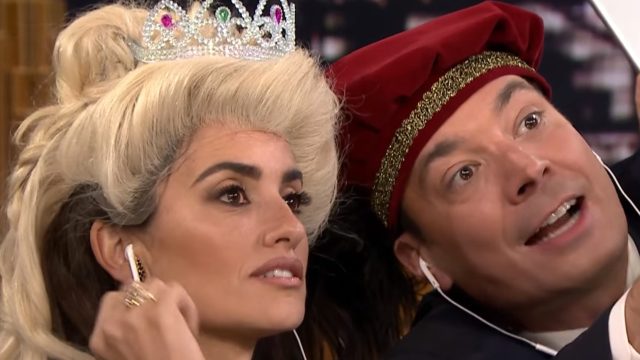 Jimmy Fallon loves to use Dubsmash, the app that helps you lip sync to songs and quotes, with his guests, and every once in a while he runs into a Dubsmash expert. Turns out Penélope Cruz is one of those celebrity Dubsmash masters, so when the two decided to play a round on The Tonight Show on Wednesday, Jimmy had to step up his game.
https://www.youtube.com/watch?v=YdYuKqDG0Ik
During her down time filming Zoolander 2, Penélope used Dubsmash to keep herself entertained. She says she performed close to 100 different quotes in the space of two hours, but, had she ever performed them in costume?
Jimmy whipped out a wig and a hat, and instantly the two were transformed into Anna and Hans from Frozen. This was perfect for their Dubsmash rendition of "Love Is An Open Door," which they of course nailed.
Remember how Frozen is coming to Broadway? I think we may have found the perfect cast.