The New 'Pen15' Season 2 Trailer Is So Awkward and Relatable It Hurts
We'll all be going back to seventh grade so soon.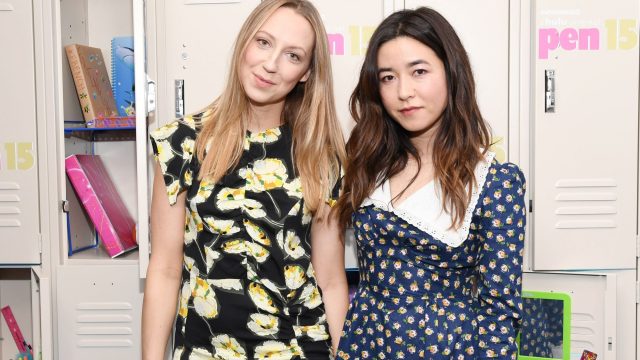 If you're one of the many millennials who laughed, cried, and cringed your way through Hulu's Pen15, a series that took creators Maya Erskine and Anna Konkle back to seventh grade, we've got the best news for you. The series is officially coming back for Season 2, and we've got the first glimpse at what to expect in a brand new trailer. Hint: Tommy Hilfiger tees, frosty lip gloss, and all the pre-adolescent missteps you remember are back in full force.
Waiting for news about the fate of Pen15 was tougher than the perils of trying to log on to AOL using dial-up, but at long last, Hulu has confirmed that the show will return for a second season, with all episodes streaming on September 18th—just in time for the back-to-school blues.
Fans will remember that the series followed real-life best friends (and real-life thirtysomethings) Anna and Maya playing themselves as middle schoolers. And yes, seeing them act as themselves from 20 years prior is the best part of revisiting the many highs and lows of being pre-teen at the time of Y2K.
Watch the Pen15 Season 2 trailer and release date announcement below:
The quick trailer doesn't give a ton away, but it seems the pals are exploring even further the physical and emotional roller coaster of puberty. But instead of showing them moving on to eighth grade, it seems they're staying in seventh grade, for now.
"We always knew the first season would straddle between childhood innocence and experimenting into teendom. So, [next] season, I think we're going to pick up where we left off," Erskine told Entertainment Weekly in 2019. "We're hoping to keep the show [about] Anna and I in seventh grade, forever. That's what the whole concept of the show is about: that purgatory. It's not about these two characters going to high school." And truly, what could be more terrifying than being stuck in middle school forever? *Gulp*
If you haven't watched Season 1 yet, or simply want to re-watch (which we highly recommend!), you can stream all the episodes on Hulu now. Braces, training bras, and bowl haircuts—thankfully—not included.