A bride's pen exploded in her hair right before her wedding, and this is our worst nightmare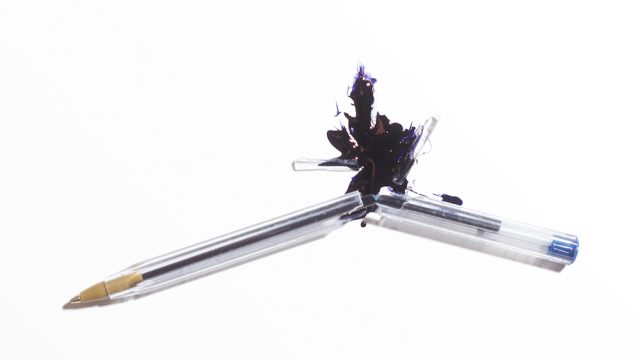 So many things can go wrong when you're planning a wedding, especially in the last few days leading up to the event. And while some disasters are out of a bride's hands (like nature-based ones), some things are definitely preventable. For instance, a bride recently experienced everyone's worst nightmare when a pen exploded in her blonde hair just days before her wedding.
Allure reported that the bride-to-be, Daphne Martin, stuck a pen in her ponytail while she was working at Costco, and that's when she found out that her blue pen burst all over her platinum blonde hair.
She told the publication:
"A co-worker approached me and told me what had happened and I was in complete shock."
However, she didn't initially run to her local salon. Allure noted that since Martin had gone to beauty school, she felt confident that she could fix her hair on her own. Unfortunately, she wasn't able to remedy the situation and had to pay a visit to her hairstylist, Kelly O'Leary-Woodford. She's the one who ended up posting the pictures of Martin's hair on her Instagram.
She captioned the photo, "One week before my clients wedding, her pen that was in her ponytail burst. What number is this on your "worst ever" scale?! *she fixed it lightener and 10 volume, 5 mins, either way, it was the craziest thing I've ever seen. DON'T PUT YOUR PEN IN YOUR HAIR."
Some commenters joked that at least Martin had her "something blue." But luckily, with the help of lightener, O'Leary-Woodford was able to restore Martin's hair to wedding condition. Long story short, stay away from those blue pens.