Peeps-flavored Oreos could be a thing *very* soon, and we cannot stay chill about this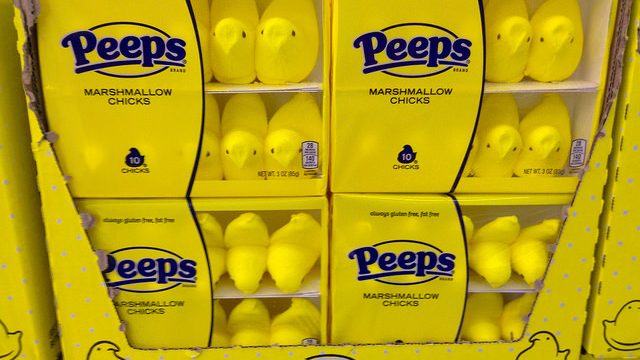 And now something that warrants deep public concern: The idea of Peeps-flavored Oreos is being tossed about. You read right: As Cosmo reports, the sugary treats and the cookies we love to twist apart before eating might be next in line to receive the food crossover treatment. After Eric Huang, aka "The Junk Food Guy" shared a photo of the would-be packaging of Peeps-flavored Oreos along with a March 2017 launch date, the internet had a collective meltdown.
Before you jump on the meltdown bandwagon, sit back, chillax and allow us to kindly remind you that Peeps is no stranger to inventive changes: There's already a line of Peeps milk, Cinnamon Roll Peeps hit store shelves in just a few weeks and we're pretty sure taste buds everywhere were electrified when last year brought forth the almighty Pumpkin Spice-flavored Peeps.
So, really how bad could a Peeps and Oreo combo be? They're honestly kind of cute:
As Huang further explained, the change would only be a matter of adding some color to the marshmallow creme, but these grief-stricken internet commenters couldn't disagree more. false
And here's a Peeps purist trying to make sense of it all:
We're game for trying out something new, but whether Peeps-flavored Oreos are an improvement upon the originals remains to be seen.