PB&J breakfast rolls: Peanut butter and jelly upgraded!
Peanut butter and jelly is one of those things you can never really go wrong with. Who doesn't love that smell that instantly reminds us of our childhood, the fact you can be dead broke and survive with a little PB&J between paychecks or that satisfying squish when the peanut butter meets the jelly?!?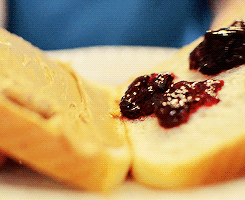 After thinking long and hard about how much we still really enjoy the marriage of peanut butter and jelly, we came up with a new way to step our game up and put a spin — well a roll really — on the classic sandwich for BREAKFAST! That's right, we're having peanut butter and jelly baked treats for breakfast. Much like the classic sandwich, this super easy recipe will not only allow you to enjoy a breakfast-appropriate version BUT also a warm late night sugary treat.
*Bonus: When baking the rolls your entire place will smell like a warm peanut butter and jelly filled hug and who wouldn't want that?
[tempo-video id="5128497100001″ account="4607804089001″]
Rolls
Ingredients:
1 roll of Puff Pastry
1/4 cup Peanut Butter
1/4 cup Blackberry Jam
2 tbsp Toasted Oats or Granola
Directions:
Preheat oven to 375 degrees (or whatever dough packaging suggests).
Unroll puff pastry across non-stick surface.
Spread a thin layer of peanut butter, and then top with another thin layer of blackberry jam. Sprinkle with toasted oats.
Roll back up and cut in 3 inch slices.
Place on a non-stick baking sheet.
Bake for 12 minutes, then remove from oven and allow to cool for 5 more minutes.
Icing
Ingredients:
4 tbsp butter
2 cups powdered sugar
1 tsp vanilla extract
3 tbsp hot water
Directions:
Add butter, powdered sugar, and vanilla to bowl.
Mix until combined, then slowly add in hot water.
Whisk until smooth.
Pour icing over rolls once they have cooled slightly.
Sprinkle with oats if desired.