Peach cobbler hair is the most delicious trend of the summer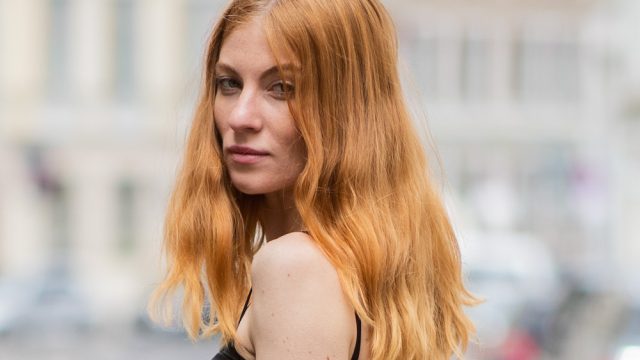 Peach season is just around the corner (depending on where you live, of course, but the season generally runs from June to late August), and with that also comes the juiciest new hair trend of summer: peach cobbler hair. Sounds delicious, right? It is.
The term was first coined by New York-based colorist Chad Kenyon earlier this spring. Kenyon told Allure he did this on his client by first painting "vanilla bean ice-creamy blonde dimension throughout her hair by balayaging and strobing. I then painted a soft shadow-root, lowlights, and a global-gloss (all over) with varying nutmeg-infused peach tones," explains Kenron. The end result? A "hyper-natural aesthetic and a seamless 'grow-out' without lines of demarcation," he says.
Below are some of our favorite examples of the peach cobbler trend, which can range from subtle and rose-hued, to a warmer, deeper orange. It reminds us of a more muted version of another summer hair trend from 2017—sushi salmon hair.
Check out the many different (and all equally gorgeous) forms of peach cobbler hair.
Shiny and irresistible.
We love the subtle highlights that brighten up this shade.
We could stare at this gorgeous hue all day.
Not ready to make the leap? Start with peach cobbler streaks.
Makeup artist Katie Jane Hughes is in on the trend, too.
So bright and sunny, and perfect for summer.
SO good.