For Students Across America, the Pandemic has Made Paying for College Next to Impossible
If you're no longer sure how to afford higher education, you're not alone—but there is hope.
For students everywhere, "back to school" probably looks a little different this year. HelloGiggles' Going Off Book is about showcasing the changing face of higher ed and reminding us all that there's no one "right" way to spend a semester, whether you're heading off to a college campus, taking classes at home, or taking the time to figure out your next steps.
College in America is expensive as is, but with a global crisis, recession, and record-high unemployment rates, the barrier between students and higher education feels larger than ever right now. Since the start of the coronavirus (COVID-19) pandemic in the U.S. earlier this year, countless graduating high school seniors and current college students have had to grapple with the scary uncertainty of what their fall 2020 semesters might look like.
This year, students are not only weighing questions like what campus they like best or what school has the best program for their intended major—they're also figuring out which option for college is the most financially feasible, especially now that many schools are moving classes online but still charging full price. And for students facing financial setbacks due to the pandemic, they have to decide not only what to do about college, but if they'll be able to afford to go at all. 
A recent survey conducted by Art and Science, a higher education consulting firm, found that 17% of prospective college students have changed their plans to attend school full-time in the fall, while 65% still aim to go full-time but have significant doubts about their ability to afford their first-choice school. Additionally, 52% of respondents reported that a parent or guardian has lost their job, gotten laid off, or been furloughed. As the survey notes, factors like these have moved financial concerns to the forefront of the college decision-making process for students and families across the globe.
Take Sabrina Hart, a 21-year-old Chicago-based student, who was looking forward to transferring to a private university as a sophomore after receiving her Associate's Degree this past spring. However, she tells HelloGiggles that she had to withdraw her application to one school because of the cost of tuition, and ultimately decided to defer her admission to another out of concern for her health in the upcoming semester. She's also worried about finding a source of income during the school year. Since beginning college, Hart has been working with the grassroots non-profit Bottom Line, an organization that coaches underprivileged students through their transition into higher education and strives to help them stay in school by breaking down college costs and exploring career goals. But now, she's worried about the potential of increased job insecurity due to the pandemic and making enough money to pay for any university, let alone a private one.
"During this pandemic, I have been forced into many unpredictable positions with my education and job position[s]," Hart wrote in a June 19th blog post for Bottom Line. "What hurts, even more, is that I could not visit the schools I found myself interested in. I was unable to obtain funding from scholarships to have access to a broader selection of schools. I will pay for college on my own, and I may not have a job during the school year. All I can do now is wait to see what opportunities [my new school] has to offer me."
Hart's story is just one of many, as the pandemic exacerbates students' struggles to juggle bills, jobs, and/or family obligations on top of schoolwork— especially for students of color and/or those from low-income backgrounds. Along with the fact that coronavirus disproportionally affects Black communities, the National Center for Education Statistics reported in 2015 that just 14% of the lowest-income students in America earn a Bachelor's Degree within eight years of first enrolling in college. The pandemic will likely make this goal even harder to achieve for those individuals, as experts predict COVID's financial implications will span well beyond this academic school year. In April, Pew Research found that over half (52%) of low-income Americans reported household job or wage loss due to COVID. And with many students and their family members relying on essential jobs, paying for school might be a huge challenge for years to come.
"There is generally more financial insecurity as students and their families have lost employment, which is putting a strain on their ability to pay their balance for school as well as keep up with the day-to-day living expenses," says Sarah Place, the Vice President of Programs at Bottom Line. "Our advisors have been frequently providing support to connect students and their families to unemployment benefits since the start of COVID-19 and we were able to provide some emergency funding, but the broader impacts of this financial strain will be long-lasting."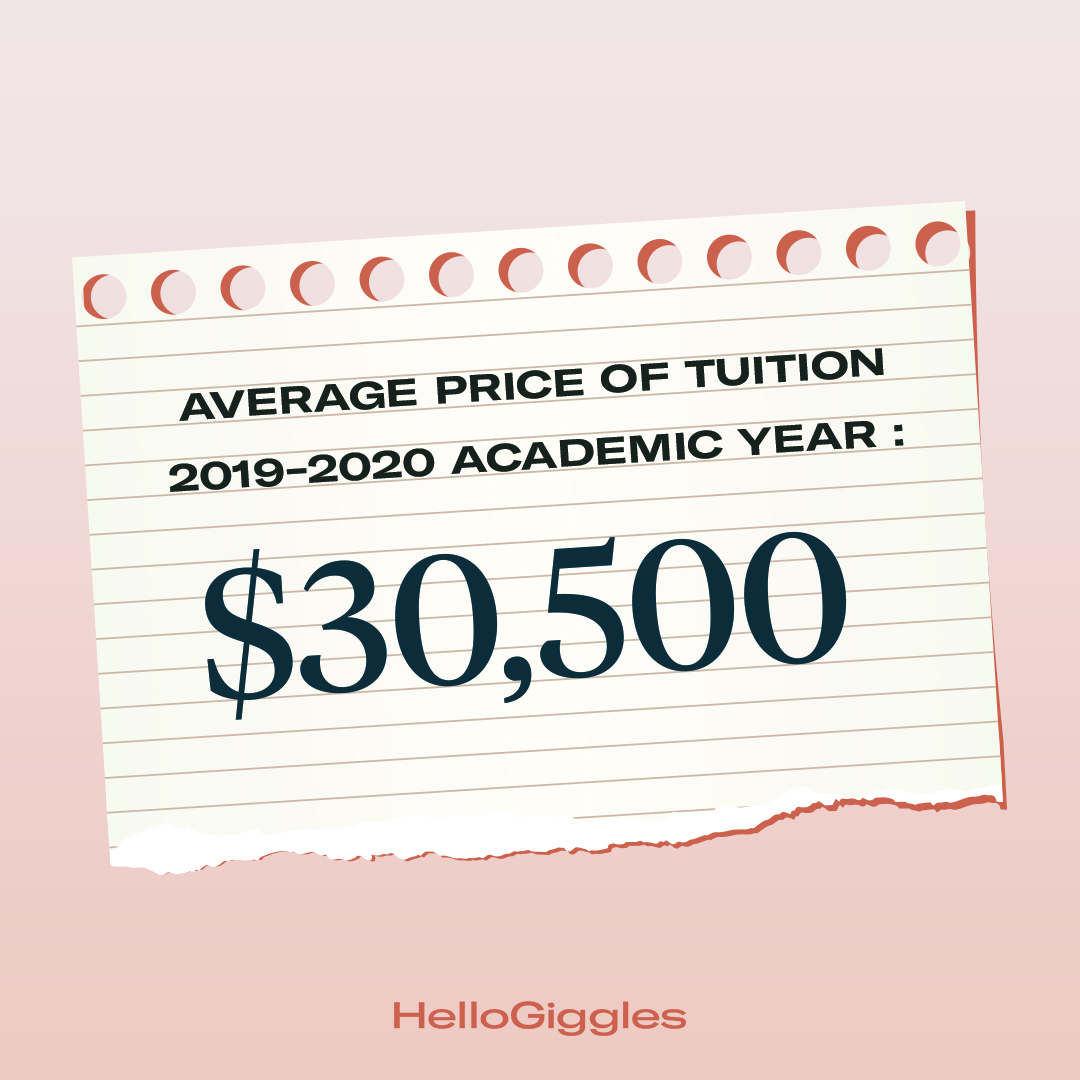 As Place notes, the next few weeks will be crucial for students intending to attend college this fall, as many schools' extended payment deadlines are swiftly approaching and tuition balances must be paid. But it's possible that a number of those prospective students won't be able to meet those deadlines. In 2019, a whopping 19.9 million students attended colleges and universities across the U.S., but according to data from Fitch Ratings, fall 2020's enrollment declines could range from 5% to 20%. This is likely due, in part, to the fact that many colleges aren't changing their already costly tuition prices, even if they plan to remain primarily online for the fall 2020 semester.
According to educationdata.org, the average yearly price of tuition, fees, room, and board for an American university was $30,500 for the 2019-2020 academic year. Even before the pandemic, countless college hopefuls had to apply for federal financial aid or private student loans to subsidize the cost of college. Hart, for instance, will most likely graduate with about $10,000 in debt, unless she gets extra scholarship money (for which she has applied through third parties like the Chicago Urban League). Even though that amount is considerably below the national college debt average of $35,397, recorded by the Department of Education in December 2019, the cost will undoubtedly weigh on Hart thanks to the pandemic potentially impacting her job prospects. "The amount of debt that universities are leaving students to drown in is mortifying," she said in her blog post.
In order to afford an education, students who already require aid may now have to look for additional financing options like potentially risky private student loans. "We have seen a moderate spike in the percentage of students who have applied for private student loans with a co-signer this year," says Mike Brown of LendEDU, a marketplace for private student loans and student loan refinancing. But according to LendEDU's recent research, it's still too early to confidently tell how the pandemic has changed the ways students and their families are financing their educations.
There is some hope, though. Brown notes, summer is considered peak private student loan application season, and there is still time left for prospective students to make cheaper college plans and apply for financing. If you're having financial issues and are unsure of what to do, but still want to make your college dreams a reality, here's some more expert advice on how to proceed—because everyone deserves to be able to explore higher education, no matter the cost.
1. Call your school's financial aid office ASAP.
"If a student's financial circumstances have changed, [they] should contact the financial aid office of the college they plan to attend and explain their situation," advises Michelle McAnaney, a former guidance counselor, college admissions coach, and founder of The College Spy. "Colleges might be able to adjust the amount of financial aid awarded to the student." If you have not yet chosen your school, speak to a few different financial aid offices about what they are able to offer you for the upcoming school year. You may want to consider a more affordable school for now and transfer somewhere else later down the road.
The Federal Student Aid website also encourages students to talk to their financial offices, especially if any pandemic-related circumstances may warrant additional funds. According to the site, if you or your family's financial situation has changed significantly from what is reflected on your federal income tax return (for example, if you've lost a job or otherwise experienced a drop in income), you may be eligible to have your financial aid adjusted from what was initially awarded based on your FAFSA.
And if you already receive federal financial aid, you may be eligible for a federal relief grant through the Coronavirus Aid, Relief, and Economic Security Act. The legislation allocated nearly $6 billion in funding for emergency financial aid grants for students affected by the coronavirus pandemic via the Higher Education Emergency Relief Fund, which was distributed to the schools across the country, and is supposed to be made available for students in need. 
Some colleges are also creating additional financial assistance available through funds targeted specifically towards those who are at risk of not attending because of financial concerns due to coronavirus. According to a recent survey by the National Association of College and University Business Officers (NACUBO), many schools plan to increase their financial aid offerings to encourage students to attend to make up for a potential decline in enrollment this year. The sooner you speak up and discuss your situation with your school, the more likely they'll be able to work with you on finding a solution before the academic year starts.
2. Get on a payment plan.
Check in to see if payment plans have now become available at your school, since many colleges and universities have developed programs specifically to help out with students whose families were affected by the virus. In addition to limiting the need for student borrowing, these short-term installment plans work well for families who can't afford the entire tuition bill at one time or those who may want to hold on to their interest-earning savings a little longer. The City University of New York website reports that many such plans are essentially interest-free, but notes that some do have fees or finance charges. Ask about the cost at your specific school before using a tuition installment plan.
3. Research and apply for third-party scholarships.
"For students looking to take out a loan for college, the first thing I always recommend is to first apply for as many scholarships and grants as possible as these do not need to be repaid," says Brown. Check out the U.S. Department of Labor's free scholarship search tool for professionally vetted merit- and financial-based scholarships, or look into scholarships offered by your school. 
4. Be cautious about borrowing or taking out another loan.
It's far too easy to rack up more student debt than you're able to pay back, which is why Brown recommends private student loans be a last resort for those who anticipate not being able to afford college in the fall. With low-interest rates on both federal and private loans looking attractive right now, think about your anticipated salary upon graduation, and use that as a baseline for what you can take out. Federal loans are usually more advantageous in the long run because of fixed interest rates and the ability to put off paying them back until you graduate. But either way, try to explore other financial options before taking out more than you'd be comfortable paying back. 
5. Consider deferring your acceptance or taking a gap year.
We know that having coronavirus derail your plans for the fall can take a serious mental toll, but you should be prepared to pivot to alternate plans if necessary. According to the survey from Art & Science, of the 17% of students who are considering changing their plans for the fall semester, the most common alternative plans were either deferring enrollment for a semester or full year or enrolling part-time in a Bachelor's Degree program. Another 16% said they would be taking a "gap" year instead. 
Whatever you do, just make sure you weigh your options. "Because deferral policies vary significantly between colleges and are likely to change based on the impact of the pandemic, a decision to defer enrollment should be made only after carefully researching deferral policies and procedures through the admissions office at your college," advises McAnaney.
As information about the coronavirus pandemic rapidly changes, HelloGiggles is committed to providing accurate and helpful coverage to our readers. As such, some of the information in this story may have changed after publication. For the latest on COVID-19, we encourage you to use online resources from CDC,WHO, and local public health departments, and visit our coronavirus hub.