Paul Rudd felt really weird hanging out with the Avengers for "Civil War"
There's a scene in Ant-Man where Ant-Man (human alias: Scott Lang) wonders why HE has to be the one to save the world, and why can't he just call in the Avengers for backup? It's a funny joke, because it's true; Why can't Ant-Man just call in the Avengers for backup? It's also a funny joke, because it's clear that Ant-Man is itching to hang out with Iron Man and Captain America.
Well, ask and you shall receive, because Ant-Man is teaming up with literally everyone else in the Marvel universe for Captain America: Civil War. The only thing is that the man behind Ant-Man, Paul Rudd, feels a little bit awkward hanging out around so much Marvel greatness, and that's understandable. But TBH, those Avengers should be THANKFUL and feel BLESSED to be in the presence of dreamy, enchanting Rudd.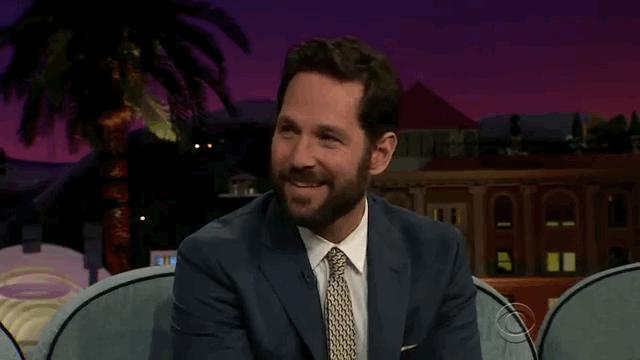 Stopping by The Late Late Show to talk up the new movie, Rudd admitted to James Corden that while hanging out on set with everyone else, he felt kind of like "Cousin Oliver to the rest of the Bradys. I didn't know what to say!"
Rudd continued that he'd stand among the other supers thinking, "Whoa, there's Iron Man! Whoa!" While everyone else was probably thinking, "Oh, and you're the one that shrinks? Talks to the ants? That's cute."
Though it sounds like Rudd was a little starstruck at first, he wasn't so starstruck that when the opportunity presented itself, he grabbed Cap's shield while he was taking a bathroom break. Check out the full video below, and let's hope that Ant-Man/shield moment makes it onto the DVD extras.