Paul Mescal Has *Thoughts* About What Happens After the End of 'Normal People'
*Crosses fingers for no harm to ever come to Connell*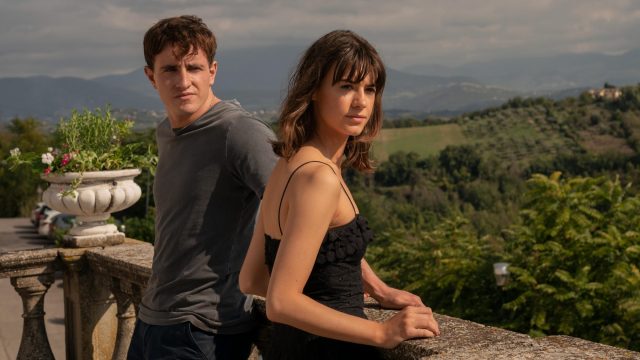 Spoiler warning for Hulu's Normal People.
When we're not keeping our minds busy with other tasks, we're constantly thinking about Marianne and Connell from Normal People, the Hulu series based on the Sally Rooney novel of the same name. What happened to them after that final scene in which Marianne pushes Connell to go to New York to pursue his writing career? What happens next?
Actor Paul Mescal, who played Connell, has ideas and opinions about where these two complicated people end up. (He doesn't seem to consider those 40-years-later episodes for Comic Relief to be Normal People canon.) In an August 19th episode of The Hollywood Foreign Press Association in Conversation podcast, Mescal says he and his fellow castmates had "loads of conversations" about this fictional future.
"My opinion kind of changes with the breeze in the sense that I think [Connell] goes to New York," Mescal said. "I think Connell is not somebody who's particularly well-equipped to exist in New York, but I think that him being so drastically out of his comfort zone will allow him to really focus on his identity as a writer."
I think he will, at some point, start to thrive in New York, Mescal said about his Normal People character. 
He continued, "I think he is somebody who has the potential to be a really, really brilliant writer. I think he's got all those kinds of attributes, these kinds of private…he wouldn't mind kind of locking himself off from the world to write his first novel, second novel, third novel." 
But…if Connell stays in New York…what about Marianne? "Of course there's the question of where do him and Marianne fit in? And this is the tricky one," Mescal said. "I don't know. I think there's probably room for another major relationship in his life, potentially not with her, and likewise with her."
As was the case throughout their relationship, Mescal believes Connell and Marianne will enter into new partnerships before they reconnect again—perhaps a decade later.
"I think that they will cause a lot of hurt to their potential partners before they end up being back together, because fundamentally I believe that they will…see what's in front of them, and commit, and that's what I like," Mescal continued. "I don't think it would be an easy five to 10 years." 
And if Sally Rooney finds she wants to write about Connell and Marianne again, Mescal is absolutely down to step back into the role. "Connell is a really interesting, exciting character to play from any actor's perspective, and yeah, he is somebody that I would like to play again," he said. "That's not to say that I ever well, but hypothetically yes." 
Hypothetically, we think we deserve a followup to Normal People. And hypothetically, we think we would could watch Connell and Marianne's relationship evolve forever. But again, like Mescal talking about Connell's future, this is all just hypothetically speaking.