Patton Oswalt shared one of the most frustrating details about the Golden State Killer suspect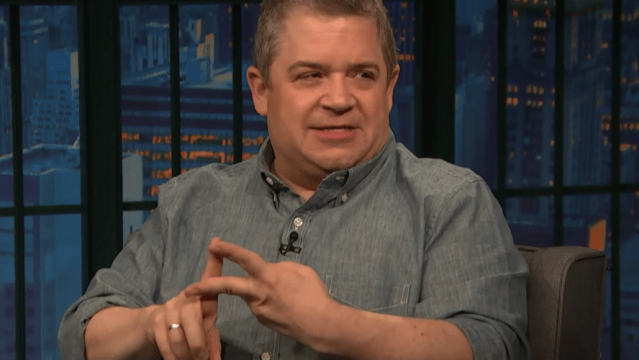 It's been over 40 years since the Golden State Killer, also known as the East Area Rapist, committed his first of 40 rapes, 12 murders, and 120 home robberies between 1976 and 1986. The case seemed as though it may never be solved…until late investigative journalist Michelle McNamara increased public interest via several high profile articles and her 2018 book I'll Be Gone in the Dark (published after her death).
Yesterday, April 25th, authorities arrested 72-year-old Joseph James DeAngelo — a former Bay Area police officer — under strong suspicion that he's the Golden State Killer — a nickname which McNamara coined. And McNamara's husband, actor Patton Oswalt, revealed the most frustrating detail about the case and the suspect in custody during an April 25th appearance on Late Night with Seth Meyers.
Oswalt, who worked with a team of writers to finish McNamara's book after she died, is now extremely familiar with the case, and believe's his wife's book helped lead detectives to the arrest. However, he also noted an excruciatingly frustrating detail about the suspect.
"[DeAngelo] quit the police force when he was caught shoplifting a hammer and dog repellent," Oswalt said. "[...] Those kinda clues...But that was in the '70s. And it was just kinda like, 'Well if he quits, he quits.' And they didn't follow up on it."
Oswalt noted that DeAngelo's former coworkers on the force never connected this crime to those of the criminal at large. If they had, the Golden State Killer potentially could have been caught much sooner.
New DNA evidence is what apparently led to DeAngelo's arrest, and many have credited McNamara's book for keeping public interest in the case alive. But according to CBS News, authorities deny they extracted any clues or tips directly from the book.
https://www.youtube.com/watch?v=RXS-fBlqZEc?feature=oembed
Nevertheless, McNamara has finally gotten the arrest she always wanted, Oswalt told Meyers. He added that DeAngelo's capture may also now allow police to solve a number of current cold cases. Thank you, Michelle, and to every single person who helped make this development a reality.