Patton Oswalt is engaged, and you won't believe the size of THE ROCK he gave his new fiancée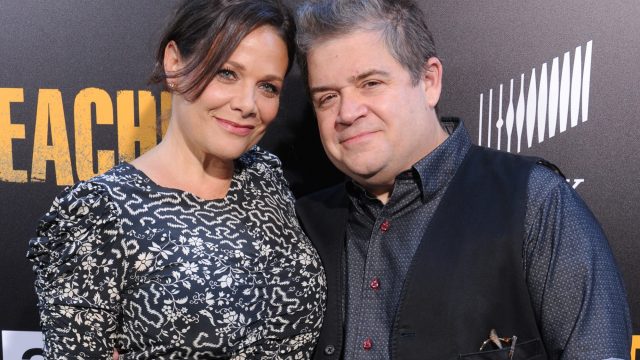 Today's a good day for love. Earlier, People broke the news that Patton Oswalt popped the big question to his girlfriend — now fiancée — Meredith Salenger. She said yes, of course, and we are literally the HAPPIEST for them right now. And just wait til you see the size of the engagement ring Oswalt gave his bride-to-be. It is huge. It is intense. It is like, at least 260 pounds. Rock envy much? You bet.
Posting to Instagram, Salenger shared a first look at her new piece of jewelry, and it is a sight to behold.
"I don't wanna brag… but check out the size of The Rock on my finger!" She writes in her caption, and whoa. That is one big Rock.
The Rock himself is even impressed with Salenger's Rock.
Obviously, that is not really her engagement ring, but it is a perfect joke to make on such a happy day. Salenger also shared a picture of her real ring, along with what we assume is how Oswalt proposed, and do you hear that sound? It's the noise our hearts make when they BURST.
According to People, the two have only been dating for a few months, but from their constant back-and-forth social media posts, it's clear that they're very much in love, and deeply care about one another. You know it's love when where are Star Wars puns involved.
This news comes a year after Oswalt's then-wife, Michelle McNamara, passed away suddenly in her sleep, leaving behind the couple's eight-year-old daughter, Alice. In the months following her passing, Oswalt has been open and honest about the grief and sadness he was dealing with, along with learning to care for Alice on his own. However, it was clear that he was never really alone, as a constant outpouring and love and support was sent his way.
The reaction to Oswalt and Salenger's engagement is intense, and it's clear that everyone is just so happy for the family.
Congrats to the happy couple, and if THE ROCK was this intense, we can't wait to see the wedding.