The New England Patriots gave the Parkland students *their plane* to get to Washington, D.C.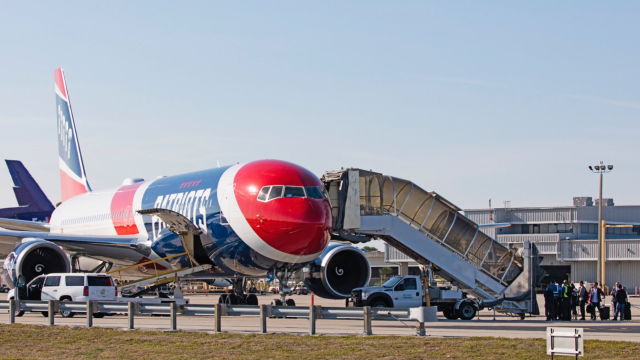 For the Parkland students and families flocking to Washington D.C. ahead of today's (March 24th) March For Our Lives rally, transportation was made a *little* bit easier as the New England Patriots donated one of their private team planes in support of the event.
According to The Boston Globe, Patriots owner Robert Kraft reached out to the school to offer the plane's use after being contacted by former Arizona congresswoman Gabrielle Giffords — a victim of gun violence, herself — and her husband Mark Kelly. The couple had organized the D.C. trip for nearly 200 Parkland residents through their gun control organization, Giffords.
Kelly told the Washington Post that after the traumatic experience the survivors of the February shooting at Marjory Stoneman Douglas High School had been through, he and Giffords felt it was their duty to help their voices be heard. He said, "Not only did their friends and teachers get shot and killed, other friends shot and injured . . . most of them, they had bullets flying over their heads. This is not fair that they have to deal with something like this at their age."
According to the Parkland residents using the Patriots plane, they were treated to a true luxury travel experience, telling ABC News that everything from the flight crew to the gifts and note from Kraft at every seat demonstrated the team's show of support.
false
In his note to the Parkland travelers aboard the Patriots plane, Kraft expressed his solidarity with the marchers, calling them "true patriots."
"On behalf of the New England Patriots organization, I want to express our support as you travel to Washington for this weekend's March for Our Lives. In the wake of incredible tragedy, we have hurt for you, mourned with you and have been inspired by you. It has been an honor for us to now partner with you as you push for progress," Kraft's note read. "Your community is stirring our country towards a better future. That is the true mark of a patriot. Thank you for your leadership and inspiration."
While Kraft has made headlines in the past for his friendship with Trump — not to mention a sizable campaign donation — we're really glad he's decided to take the time to make a public show of support in this necessary fight for change.