Patrick Starrr talks meeting his beauty idol, the weirdest makeup look he's tried, and what will be the big beauty trend for 2017
We are in a makeup revolution. Boys in beauty are taking the world by storm with their fierce fashion, mesmerizing looks, and incredible fearlessness. They're proving that men can do makeup, and they can do it damn well.
Patrick Simondac, known as Patrick Starrr, is one of the boys in beauty leading the cosmetic world. One minute he looks like Mariah Carey's equally fabulous twin and the next thing you know, he's embracing his natural beauty. He's #GOALS!
Even though Patrick is one of the top beauty gurus on YouTube, he still keeps it real online with his relatable video posts, authentic reviews, and charming personality. He makes you feel like you're one of his besties!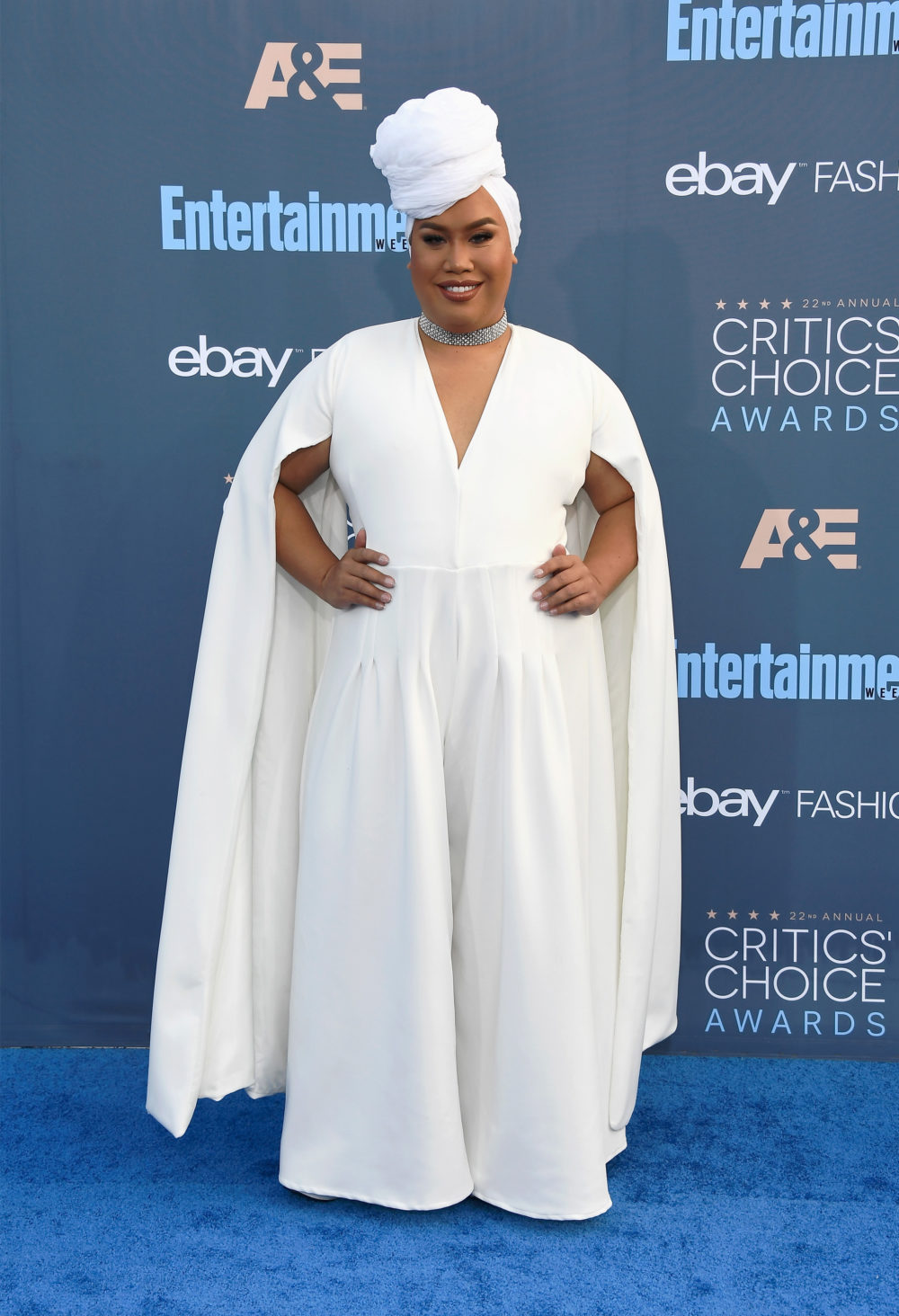 For Patrick, everything has come full circle — from buying a foundation from MAC with his own hard-earned money to getting products from the iconic brand sent to him! Not to mention, he gets to attend meet and greets in MAC stores. He's living his dream, and we couldn't be more inspired.
We were lucky enough to chat with the social media "starrr" about stealing beauty products from his mom, meeting Tyra Banks, and doing his craziest, and most creative looks at Pulse nightclub.
Hello Giggles: How did you first get into makeup?
Patrick Starrr: I was that teenager that was always photoshopping makeup and growing up in high school, I was that kid that was doing photography for senior pictures, birthday parties, and quinceañeras. I was doing headshots and I started photoshopping makeup on these people, and I figured one day, why don't I just do the makeup instead of photoshopping it so it will be easier? So that was my first brush with makeup at the time, and this was in like 2008/2009. I didn't start actively pursuing makeup until 2011.
HG: What was your favorite part about makeup in the beginning and what did you learn?
PS: I think my favorite part was understanding the face shape, and I think that's why my personal transformations are just so zero to 100. They're just insane to people because I look like a completely different gender to people or a completely different race when I do my makeup. So I guess understanding the face shape through Photoshop was looking at faces from afar to really, really looking at faces up close. I learned to highlight and contour.
HG: Do you remember what the first makeup product you ever bought was?
PS: The first product that I stole from my mother was the CoverGirl whipped foundation. The first product that I bought was MAC. I went in, right away, into MAC and I bought the Studio Sculpt foundation from them.
HG: How does it feel buying your first product with your own money at MAC, and now you get to do cool collaborations with them? I mean, you just had a glam sleepover with Mariah Carey for her MAC collection?
PS: It's been insane! It's been so full circle, like even just getting products sent. I was told to wipe off my makeup when I worked at Macy's with MAC — and that was that was like my first year working there —  and now being praised to wear makeup, to meeting celebrities like Mariah Carey or Selena's family, or to do a meet and greet at their store in New York City. It has been so surreal to me.
I wake up and I'm just like what did I do yesterday? I feel like it's a dream every time I wake up. I've been blessed with amazing opportunities with the company that I've admired [since] day one.
HG: Do you think you'll ever want to start your own beauty brand? If so, what products would you for definitely have?
PS: I would love to start a beauty brand. I don't know, so much has been done, I would just want to do it all! Lipsticks, highlighters, foundation, concealers, like it's hard to say! I learn a lot from these brands like Benefit and Tarte that I would want to send people on a trip. But I don't think it would be anytime soon. I would want to do lots of color for sure.
HG: What is an obscure or odd beauty tip that you still use?
PS: I would say there is one this one pro tip that I have that no one really knows about. So there's this waterproof mixing medium by Make Up For Ever called Aqua Seal. I put it on the Q-tip, and I rub it in my water line. It stops you from tearing. If you have that day where your eyes just won't stop watering, it's not you crying or anything, it'll stop you from actually involuntarily tearing up. And I've had that in my back pocket for a while.
HG: Who are some of your beauty idols in all of history?
PS: Oh my God! I've said it time and time again, I am obsessed with Tyra Banks. She is my idol. Tyra has been my number one for me. And I met her two months ago and she was amazing.
I just love people with a good business and a good brain. Tyra Banks has been the ultimate! She actually DM'ed me on Twitter and we arranged to meet in Vegas! I got to meet her, and do a YouTube video with her, which I have yet to post.
HG: What do most people not know about your job as a beauty vlogger?
PS: There's not enough time in the day. It's like you wake up and then your day is gone. I think there isn't enough personal time. Not a lot of people know that because we present this character online, and you know, I wish there was just a day where you can just do nothing. I think today is that day for me. I'm just gonna post a video, kick back and chill, be in my slippers, and a little robe. There's not enough time in the day, there's not enough patience in the day, too. There's always something going wrong.
HG: What advice would you give your 13-year-old self if you could?
PS: I would have told my 13-year-old self to get your ass on YouTube. I started so late, I wish I started YouTube earlier. And just say, you know, just to make other friends online. And don't be scared, be yourself.
HG: What's the weirdest makeup trend you ever tried out?
PS: It is trying this Avante Garde lime green and pink…I remember I was trying to do a color wash on my face. I thought it was like going to be editorial. My friend took a picture of me and uses it as blackmail every time I get sassy. Ironically, this was in Florida, where I wanted to bring fashion and it was at the famous Pulse nightclub, and that was the club that I would go to and express myself. A little bit of history behind Patrick is, I grew up going to Pulse [in] Orlando, like learning from drag queens, and that's why it's so close to my heart.
But yeah, I think just doing colorful editorial makeup was a big mistake. It is bad, it's BAD! I literally got ready in the car, in the dark, right across the street from Pulse at the Wendy's! Like, I'm about to go in with my little 180-color eBay palette. It was…oh my God. And I matched my shirt, too. It's really bad.
What beauty trends do you see happening in 2017?
I feel like it's going to be about beautiful skin. I feel like skincare is gonna be a good thing because like you see everything now in HD and YouTube, the technology now, it's just insane.
You can get the latest beauty tips and trick on Patrick's YouTube channel.
Make sure to tune in to HelloGiggles' Facebook Live today at 4 p.m. to watch us hang with the beauty guru himself!