Patrick Starrr is all of us if we had to do Kim Kardashian's makeup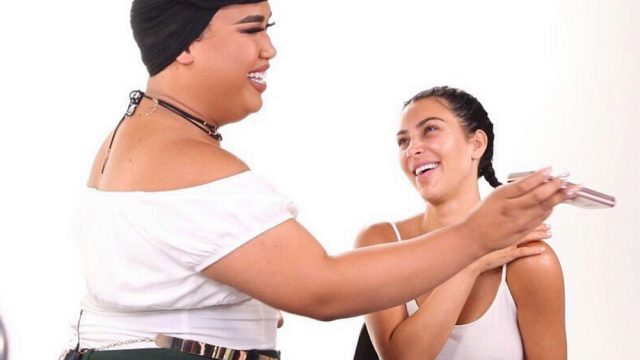 Patrick Starrr got the chance to beat Kim Kardashian's face with her own new products, and the result is the snatch of the century.
Okay, if that sentence didn't make any sense to you, it means that Patrick got to do the makeup of one of his greatest inspirations in a new YouTube tutorial. The celebrity MUA uses Kimmy's own contouring and highlighting sticks from her KKW Beauty line, along with a bunch of other products to create a full coverage yet natural makeup look.
In the video, Patrick can barely contain his chill, and we don't blame him. He probably says the word "excited" at least 20 times, but who wouldn't be excited to bounce their "booty blender" on that famous face?
A few highlights (lol) from the video tutorial.
https://www.instagram.com/p/BXTJVbLgJub
Speaking of booty, Patrick and Kim keep it SO real in this video. They talk twerking (Kim: "Can you twerk?" Patrick: "Is she trying to embarrass me right now?!"), dirty brushes, and morning routines (pee or check phone first?). The snatching, the blending, the tea is SPILT, hunty.
Behind the scenes of the shoot.
Patrick and Kim first met at the KKW beauty launch at Kim's house. The two babes chatted about a makeup tutorial and made it happen! Patrick was the first to swatch Kim's highlighter and contour sticks, and they have so much chemistry that we could honestly watch a whole show of just the two of them.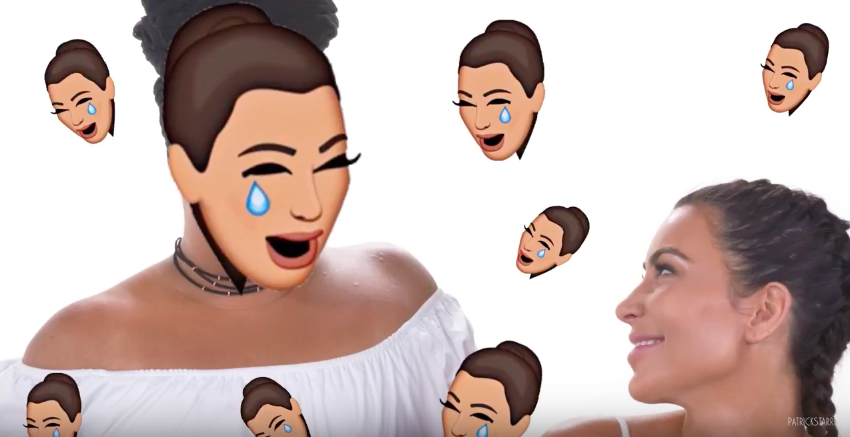 Patrick uses Armani, Make Up For Ever, Nars, MAC, Dermablend, Kylie Cosmetics, Anastasia, and more for the lewk. He reinforces what everyone should hopefully know by now, that sanitation is majorly important for makeup application. Kim admits that her own makeup bag is full of 15-year-old brushes. Celebs, they're just like us!
"I was actually mortified, I opened up my makeup bag and....everything is so dirty. I have to get rid of everything and start over."
Re: the KKW highlighters and contours, Patrick and Kim say that the creamy sticks should be treated with care since they're like "lipstick for your face."
The finished product is a very dewy, daytime look that's totally camera ready. Kim gives us her best Disney princess pose and the slay is complete.
Watch the full video here!
https://www.youtube.com/watch?v=OBX38JSeITg?feature=oembed
Okay, we love these two. Here's to more collabs!