Patrick Dempsey Channeled McDreamy to Urge You to Wear a Mask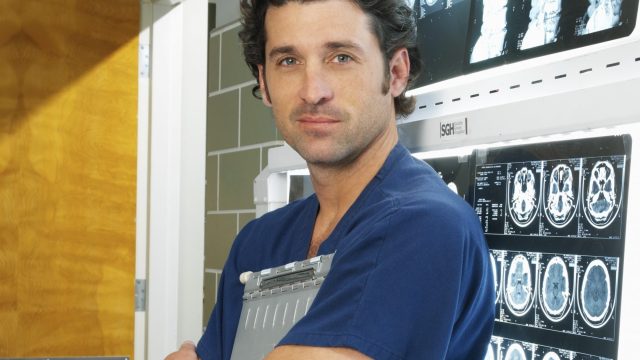 When McDreamy himself tells you to wear a mask to protect others, you swoon…and then you listen. Former Grey's Anatomy star Patrick Dempsey, who played Dr. Derek Shepherd (codename: McDreamy), posted a selfie to urge fans and followers to continue wearing their protective masks during the coronavirus (COVID-19) pandemic. And he pulled a fast one on Grey's fans by using his iconic catchphrase to drive home the importance of mask-wearing.
"
It's a Beautiful Day to Save Lives," Dempsey captioned his June 29th post, adding the hashtags #WearAMask #COVID19 #YourActionsSaveLives.
Of course, avid watchers of Grey's Anatomy know that Dr. Shepherd would say this phrase right before diving into surgery as a way of wishing himself and his fellow medical professionals good luck. In our current situation, the phrase, paired with a reusable mask, is more pertinent than ever. 
Dempsey…you sly dog.
https://www.instagram.com/p/CCCTkCth2Ym/
Dempsey has joined the ranks of Reese Witherspoon, Kerry Washington, and Gwyneth Paltrow, who have all reinforced the importance of continuing to wear masks while several states attempt to reopen after the nationwide shutdown.
https://www.instagram.com/p/CB9LUjgnjnC/
Mask wearing has become a politically charged issue in some areas of the country, with some citizens claiming that being told they must wear a mask impedes on their rights and freedoms.
However, the CDC still recommends we all wear face masks when out in public, mainly to protect others from potential asymptomatic carriers of coronavirus. Witherspoon reminded her followers, "Hey Everybody! Wearing a mask is not a political statement. It means you care about other people's health and safety. Be KIND, wear a mask!"
https://www.instagram.com/p/CB55WHIAzpf/
Dempsey may just play a doctor on TV, but, hopefully, the IRL McDreamy's endorsement of mask-wearing can encourage others to do so. Mask up before going out, everyone.
As information about the coronavirus pandemic rapidly changes, HelloGiggles is committed to providing accurate and helpful coverage to our readers. As such, some of the information in this story may have changed after publication. For the latest on COVID-19, we encourage you to use online resources from CDC, WHO, and local public health departments, and visit our coronavirus hub.