There's a March Madness bracket for "Parks and Recreation," but let's be real — even in death, Li'l Sebastian is the best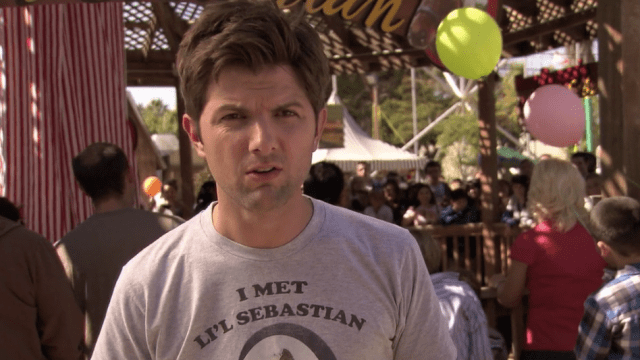 This year, March Madness is more stressful than ever — and the reason has nothing to do with basketball. Well, mostly. In addition to the yearly NCAA brackets millions of people fill out yearly, the internet has been circulating with a slew of pop culture brackets.
First, there were the Kanye and Drake brackets, which seeded hits and deep cuts by the artists to determine their respective top track. Then, to the hive-inducing stress of everyone, the Disney/Pixar bracket went viral, forcing fans to embark on a divisive journey through just 32 of Disney and Pixar's greatest films in search of the top dog.
But now, there's another bracket making waves and it's *literally* the most stressful thing on the internet. Copying the style of the NCAA 64-seed bracket, three friends — Jackson Schoettle, Andy Reel, and Nathan Kern — created a Parks and Recreation bracket that'll have you really thinking about your favorite character.
The 64 characters include the beloved leads like Leslie and Ron, recurring mainstays like Jean-Ralphio and Joan Callamezzo, and Pawnee staples like J.J. of JJ's Diner and — perhaps the best character of all — Li'l Sebastian (RIP!). And as with the NCAA before it, the true difficulty lies in the unexpected pairings. Sure, we love the main Parks squad, but the truly outrageous citizens of Pawnee are vital to the show's enduring legacy.
In the day it's been circulating around Twitter, the Parks and Recreation bracket has proven to be a divisive force on the internet. Sure, one may go into it with a champion in mind, but the road to number one sees some difficult match-ups. Crazy Craig vs. Joan Callamezzo? Jean-Ralphio vs. Andy Dwyer? A surprise turn of events in which Perd Hapley or Crazy Ira and The Douche come out on top?
This sounds like the perfect case for…
Naturally, the very passionate Parks fans on Twitter have been giving the bracket a thoughtful go-around, and the results are hilariously all over the place.
false false
false
We seriously applaud everyone attempting the Parks bracket and think you all deserve a million waffles at JJ's for even trying!