Amy Poehler and Nick Offerman are down for a Parks and Rec revival — but only if Beyoncé plays the mayor of Pawnee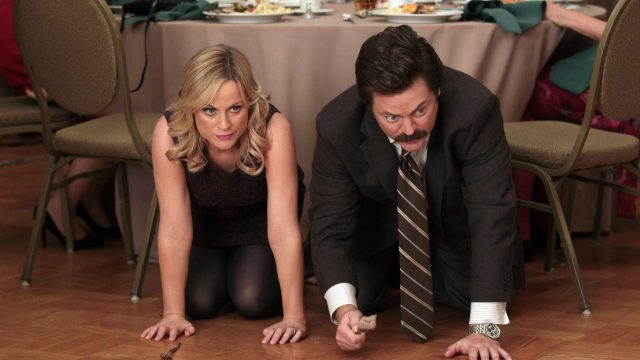 We're currently in a golden age of television but, really, you could also argue that we're in a golden age of reboots. From Will & Grace to Murphy Brown, many of our favorite TV shows from back in the day are getting the revival treatment. It's practically become a standard interview question for actors: Do you think your beloved TV show will ever get rebooted? Truthfully, though, reboots can be hit or miss. But one revival that just about everyone under the sun wants to happen is a new season of Parks and Recreation. And it turns out, Leslie Knope and Ron Swanson themselves, aka Amy Poehler and Nick Offerman, are totally down.
Poehler and Offerman stopped by The Ellen DeGeneres Show on Thursday, May 24th, to chat about their new competition show, Making It. But DeGeneres couldn't resist asking about the possibility of a Parks and Rec revival. Can you blame her? It's what the people want to know. After Offerman joked that they just came from a Parks and Rec wardrobe fitting, he shared his one stipulation for a new season: They need to get Beyoncé involved.
"We said that if Beyoncé will play the mayor, we'll bring the show back," Offerman said. "This is Beyoncé Knowles, the singer. The entertainer."
Obviously he's joking about that too, but we're not laughing. Let's make it happen. We deserve this.
"[Oprah] could be the mayor too," Poehler added. Um, YES. Oprah may not be running for president of the United States in 2020, but she should DEFINITELY play the fictional mayor of Pawnee. That idea is enough to soften even Ron Swanson.
All jokes aside, it seems like the entire Parks and Rec cast is genuinely down for a revival.
From what Poehler said next, it sounds like we shouldn't discredit the possibility of it happening. Maybe not right now, but it definitely could happen some day.
"I'll speak for everybody and say we would all do it. I think we'd all do it some day. It would be amazing."
Watch Leslie and Ron — err, Amy Poehler and Nick Offerman — talk about the possible Parks and Rec revival below.
https://www.youtube.com/watch?v=fUIF9m737kI?feature=oembed
We're 1000% here for a Parks and Rec reboot with or without Beyoncé (but with would be nice).