The Parks and Rec cast reunited to perform "5,000 Candles in the Wind," and we're watching on loop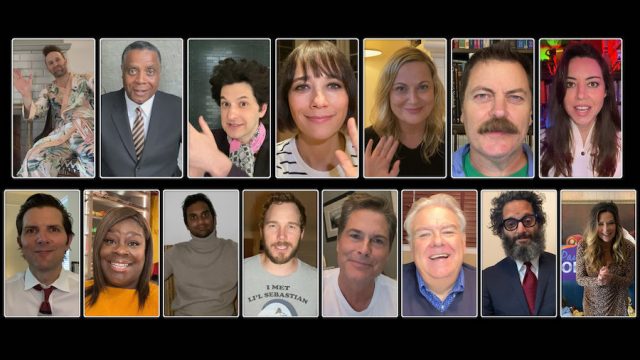 The cast of Parks and Rec knew just what we needed. It's a song and tribute to a little horse named Lil' Sebastian and it's called "5,000 Candles in the Wind." For those who forget, this is the tune that Andy (Chris Pratt) wrote in Parks and Recreation Season 3 as a challenge to write a song 5,000 times better than Elton John's "Candle in the Wind." The math, the sentiment, the timing—it all adds up perfectly right now.
The cast all joined in virtual song at the end of their at-home quarantine special episode of Parks and Rec, which aired yesterday, April 30th. In Brady Bunch-style, all the original characters were stacked on the screen for the singalong. We're talking Leslie Knope, Ben Wyatt, April Ludgate, Andy Dwyer, Chris Traeger, Ron Swanson, Tom Haverford, Ann Perkins, Donna Meagle, and Gerry Gergich (also known as Jerry, Larry, or Terry, whatever you wanna call him).
Of course, the poetic songwriter, Andy, started off the song. Then, everyone else joined in wholeheartedly at the chorus singing, "Bye, bye, Lil' Sebastian."
April waved her lighter. Donna hit us with some high notes. Ron Swanson got teary-eyed. Even a reluctant Ben, who never really got behind the whole tiny horse obsession, joined in.
https://www.youtube.com/watch?v=bwYth4JZP3s
We have to applaud the cast for their performance. If you've been pulled into an attempt to sing "Happy Birthday" in unison over a Zoom call in recent months, you know exactly how hard this is. If you haven't already, we highly recommend watching the full special episode one, two, or 5,000 times.
https://www.youtube.com/watch?v=1Vl_oUMyGYU
The full-length special gave a glimpse into what quarantine life would be like for all our favorite Parks and Rec characters.
Andy accidentally locks himself in a shed. Ron is, of course, thriving with his lifetime supply of jerky. April is simply over the group Zoom calls. Leslie is just checking on all her friends. Ben, poor Ben, is flashing back to his "inspired" (read: "depressed") claymation phase—which actually feels scary-relatable to how we are with all our new projects right now. All of the other original characters and a few special ones (like the infamous Joan Calamezzo) made appearances as well.
Both the "5,000 Candles in the Wind" performance and the special episode helped raise money for Feeding America's COVID-19 Response Fund. The Parks and Rec writers, producers, and cast, along with State Farm, Subaru of America, and NBCUniversal, are matching donations up to $500,000 made through May 21st.
As information about the coronavirus pandemic rapidly changes, HelloGiggles is committed to providing accurate and helpful coverage to our readers. As such, some of the information in this story may have changed after publication. For the latest on COVID-19, we encourage you to use online resources from CDC, WHO, and local public health departments, and visit our coronavirus hub.