Paris Jackson clapped back at fans who judged her for not attending Janet Jackson's 2018 BBMAs performance
The 2018 Billboard Music Awards were no doubt a big night for Janet Jackson, who returned to the stage for the first time in nine years to perform a medley of her biggest hits, while also becoming the first black woman to receive the Billboard Icon Award (go, girl!). Several of her famous family members, including mom Katherine Jackson, sister Rebbie Jackson, and nephew Prince Jackson were in the audience watching her triumphant performance. However, some fans noticed that Janet's niece Paris Jackson was noticeably absent from the Las Vegas arena.
In a post on her Instagram Stories, Paris addressed why she wasn't there to see her aunt Janet's big night, as well as all the fan speculation into her family's personal life.
Paris wrote, "Dear social media followers, friends, stalkers, lovers and haters, and fellow moonwalkers: Please do not tell me/demands/try to control how I handle my relationship with the people in my life, specifically my family. As amazing and as shitty as things can be, it is no one's business but ours."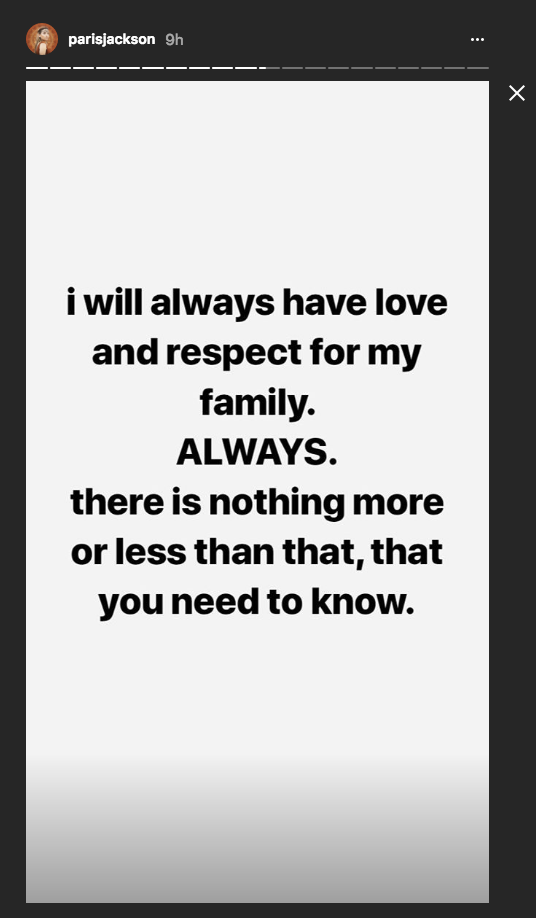 She went on to add, "I understand that some of you feel some sort of connection or need to be a part of our lives considering you watched us grow up. However, I am handling my situation exactly how my father did. And I am happy keeping it that way. I will always have love and respect for my family. ALWAYS."
Paris also noted that her family is deserving of respect and privacy just like any one else. "Every family has their moments of trauma, heartbreak, separation, love, oneness, tribe, pain, everything. EVERY FAMILY. My family, specifically, and a good number of others…well, our drama is broadcasted worldwide through media. But that doesn't mean our family issues are any different from yours. Ours are just made public."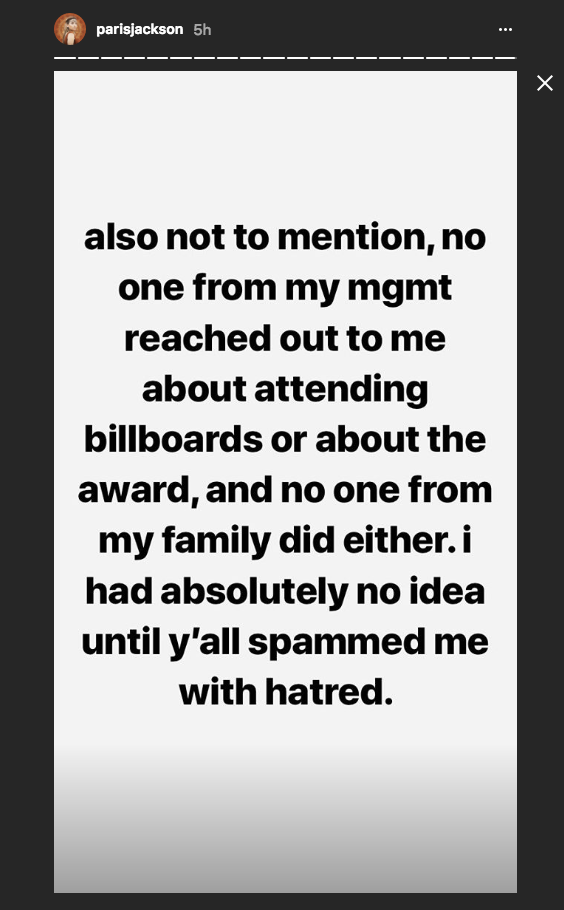 As for why she wasn't in attendance at the the 2018 Billboard Music Awards, Paris said actually didn't even know about them. She wrote, "Also not to mention, no one from my [management team] reached out to me about attending billboards or about the award, and no one from my family did either. I had absolutely no idea until y'all spammed me with hatred."
We can imagine how difficult it must be to have an endless stream of strangers making assumptions about your personal life, and we feel for Paris, especially since she's been in the public eye her entire life. Her words serve as a reminder that we're all human and deserving of kindness — famous or not.