Paris Jackson and her boyfriend are having the *best* time on vacation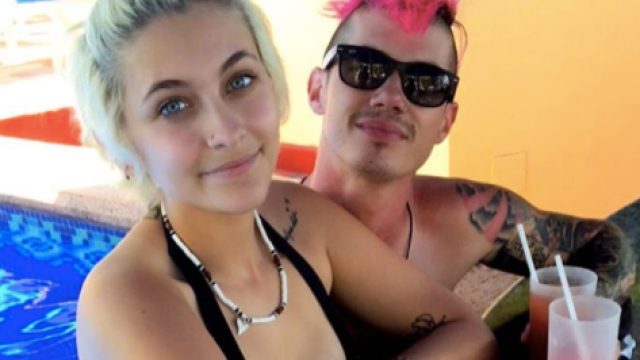 Being a public figure – especially when you're a public figure by default and literally can't do anything about it – can be super rough. Arguably, no one knows this better than Paris Jackson. The daughter of beloved late pop icon Michael Jackson, she'd been shielded from the spotlight for years. But after her father's tragic and untimely passing, she was thrust into the limelight and has since become one of our favorite celebs in her own right. Paris has been admirably open about her struggles with mental illness, and online bullying – honesty that we love her for – but she's had her fair share of rough times. After all, she's only human.
That's why we're ~so~ happy to see that Paris Jackson and her boyfriend Michael Snoddy are having an awesome time chillaxing and generally being adorable on vacation.
https://www.instagram.com/p/BLAP5vcjym7
"This is how we vacation!☀️?❤️? #babedaysaremyfavedays," Snoddy cutely captioned a sweet pic of the two chilling poolside, with his arm affectionately around his GF of six months.
Jackson and Snoddy, a 26-year-old drummer for the band Street Drum Corps, shared a series of Instagram posts letting the world know that they're having an *amazing* time on a vacation. There's no indication of where the two are vacationing (which makes sense, because they'd definitely be swarmed by paparazzi looking to catch a few snaps of the two in vacay bliss) but from the pics and snaps the two have shared, we can tell it's a tropical paradise. Based on the timing of the Instagram posts, they seem to have arrived wherever they're at on September 28th.
Paris shared a few snaps of the scenery, showing off the leafy, sea-side vacation views.
https://www.instagram.com/p/BK7NgssjNjn
It seemed to be a bit stormy outside, but they definitely didn't let that stop them from enjoying their getaway. The cute pair shared several photos looking blissfully happy and very couple-y.
https://www.instagram.com/p/BK7AHq_j-W5
"[B]est vacation i could ever dream of thanks to my darling sunflower @michaelsnoddy ❤️," Jackson captioned one photo.
Paris also shared what a great time she was having via Snapchat, being silly and goofing around with her boyfriend. She even took a sec to share a super cute selfie in a black bikini!
We love how happy and healthy Paris looks. Vacation is one of the best things ever for recharging both your body and soul. Jackson absolutely deserves this time to rest and relax out of public sight – in recent months, she's been repeatedly dogged by aggressive tabloid rumors and cruel online comments, leading her to speak out against online bullying a few weeks ago and remove commenting from her Instagram account altogether.