Paris Hilton and Kim Kardashian finally reunited at a Christmas party and they both looked so fab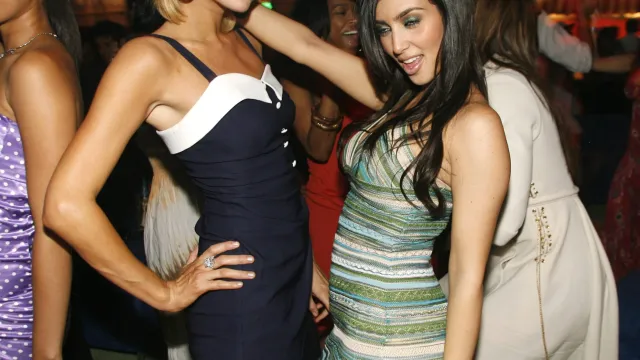 While 2016 has been busy ripping everything to shreds, it's somehow managed to repair the friendship between Paris Hilton and Kim Kardashian, who reunited at a Christmas party on Saturday and obviously looked fab while doing so. People reports that the former BFFs hung out and posed for pics at Kris Jenner's Christmas eve bash for the first time since 2014, when they were spotted in Ibiza at Riccardo Tisci's birthday party.
Based on Khloé's Snapchat posts, it appears that the Kardashian ladies had the most fun Christmas Eve ever and Hilton, as well as her sister Nicky, was right in the mix, just like old times.
"Lovely evening celebrating the holidays with @KimKardashian. ✨✨👸🏼👸🏻✨✨," Hilton captioned the Instagram photo."
Hilton looked chic in a long black dress and blinged-out earrings while Kardashian paired her shimmery gold Alexander Wang dress with a choker and a lip ring.
Things also looked chummy between Hilton and the other members of the Kardashian and Jenner clans, as the reality TV star-turned-international DJ posed in shots with Khloé, Kylie, and Caitlyn.
More than a month after being inactive on social media in the wake of her Paris robbery, Kardashian followed Hilton on Instagram in November. We were just as surprised then as we are now. It's fitting that her mom's annual holiday bash marks Kardashian's unofficial return to social media (she has yet to post anything on her accounts), but absolutely no one could've predicted that Hilton would've been a part of it.
Either way, this year remains full of surprises and seeing these longtime friends put the drama behind them is one we're absolutely here for.