Parents all over the internet are recreating Beyoncé's baby reveal pic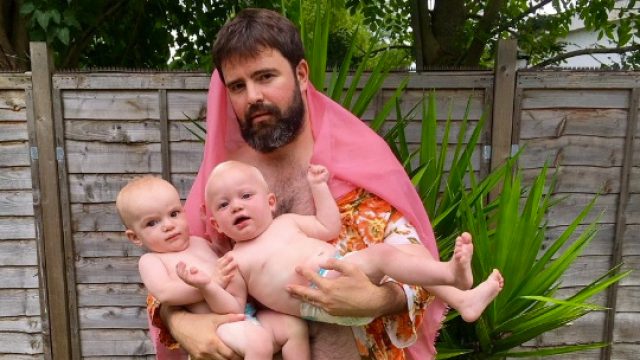 The world was understandably shook last week when Beyoncé blessed us with a photo of her month-old twins, Rumi and Sir Carter. In true Bey fashion, the photo was incredibly glamorous, painting the perfect picture of new mama bliss. And now, parents are recreating Beyoncé's motherhood photo — often with pretty hilarious results (because, let's be honest, we can't all have Bey's personal team helping us snap shots).
In case you missed it, the first picture of Bey's twins entailed the singer casually standing in a lush floral garden, cradling Sir and Rumi while draped in a beautiful printed gown.
Here's the original below.
Now check out a few "normal" moms and dads trying their hand at the Beyoncé baby reveal…
This mom did an excellent job with Photoshop, and even managed to include her older son (decked out in a Buzz Lightyear costume, no less).
This mom-of-three rocked her most glamorous robe and slippers for the occasion.
This dad got in on the action with his baby twins, and we're loving his neon green Speedo and pink pashmina!
This mom shared a throwback photo from when her twins were just born, and she totally nailed it.
Of course, it's all in good fun to joke about Bey's gender reveal pics, but she simply wouldn't be Beyoncé without such a lavish first shot of her new beybies. And needless to say, we are LOVING all of the creative interpretations of the photo shoot. It seems as though babies Sir and Rumi are already providing the world with artistic inspiration!