Papa John's just released a pizza that's part bacon burger and now we're sure we live in the Matrix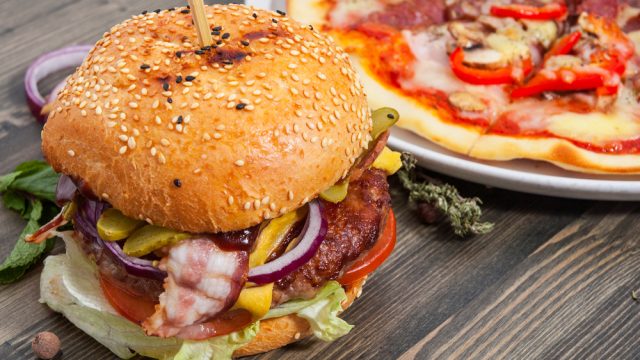 Pizza is a perfect go-to, comfort dish. Chewy crust. Umami tomato sauce. Melted cheese. Of course, who can forget the baked toppings? How could anyone improve on such an impeccable and classic dish? Apparently, Papa John's thought there was some room for improvement, so they created a new concoction. They call it the Bacon Cheddarburger Pizza.
And it looks like this.
Holy smokes. Pizzas and burgers? Give us a second to mull it over.
Wait, we're still mulling.
According to ABC13, this crazy hybrid features:
"…Wisconsin Cheddar, hickory-smoked bacon, zesty burger sauce and dill pickle slices.
That's quite a mouthful if we do say so ourselves.
Speaking of which, there are already reviews on the internet, dissecting the Papa John's creation:
https://www.youtube.com/watch?v=PVyo_IyZkHQ?feature=oembed
That's almost as strange as the taco pizza craze in New Jersey. What is that, you ask? Tony Boloney's, a pizza shop in Hoboken, serves up pizzas filled with tacos. Oh yeah – it's real. Hundreds of people visit Tony Boloney's for this interesting pairing.  Taco Tuesday, anyone? It's become so popular people around the US are asking for it to be shipped to their homes.
People certainly know no bounds when it comes to weird combos. Take for example this Twitter photo:
false
We can only guess that pizza purists everywhere are a bit displeased with the invention.  Peeps on cheese?  No, thank you.
But if you don't care about all that and you wanna grab yourself a bacon cheddarburger pizza, you have to hurry. Papa John's is only offering this tasty delight until June 25th.
Oh, did we mention they are also offering Bacon Cheddarsticks? Your heart may not thank you, but your taste buds will!