Look at ALL these women across the U.S. who voted in pantsuits on Election Day in honor of Hillary Clinton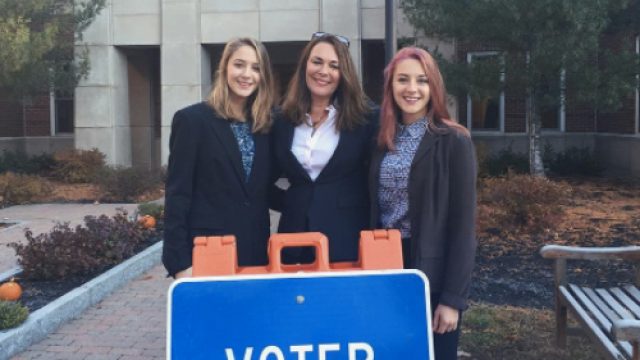 Election Day isn't just about voting — okay it's mainly about voting — it's also about your style when you hit the voting booths. In fact, there are a ton of women who slayed in pantsuits as they went to the polls today and we are loving it.
With Hillary Clinton's ever-growing pantsuit collection it's no wonder why women are showing their support for the presidential candidate by rocking their very own pantsuits to cast their ballots. Whether it's white pantsuits, which are pretty hard to find during the era of #PantsuitNation, or a bright colored suit, ladies are showing that they're with her, with their style and votes.
See some of the best looks from real women as they show off their Election Day style, pantsuit and all. Oh, and of course they're wearing their "I voted stickers," too!
What's better than one pantsuit? How about rocking matching red ones with your kids as you cast your vote?!
https://www.instagram.com/p/BMjbwIJDNIk
We like your style ladies! An all-pink suit next to an all-white suit is just the fashion statement we were looking for.
So, this lady is officially our pantsuit hero!
https://www.instagram.com/p/BMj3UB3ApfX
This woman screamed her voting success while wearing a traditional pantsuit, with sneakers, in Michigan and we're totally into it.
Um, we need this tweed jacket ASAP!
https://www.instagram.com/p/BMjrDnwA4DH
The Buzzfeed New York office got in on the pantsuit fun.
This adorable duo celebrated in style by buying some wine and showing off their suits.
https://www.instagram.com/p/BMjtdZshv2S
Generations of pantsuits, unite!
https://www.instagram.com/p/BMjpFjBgsO8
We're loving this car selfie — and polka-dot sunnies — after voting photo.
This lovely lady rocked a blazer that her grandmother made her mother, to show solidarity with the women in her life. Side note: the sassy tee underneath isn't too shabby either.
https://www.instagram.com/p/BMjr0lpgGny
Um, hello, this is woman is slaying it in this pink number.
Abe Lincoln wearing sunglasses? Yes, please!
Nothing says, "I'm with her," like strutting your stuff in a white pantsuit.
The family that votes together, stays together!
https://www.instagram.com/p/BMjY-FJAXvw
Seriously, this mother-daughter trio all wore pantsuits, voted together, and posted two photos, which is so great.
https://www.instagram.com/p/BMjZqJEjEFL
While this isn't a real pantsuit, we're totally going to count it because this cutie is pregnant and still rocked a pantsuit-like wardrobe to the polls.
https://www.instagram.com/p/BMjO4wkgihJ
Would you rock a pantsuit to vote? Which look is your favorite?