Pantone Released a New Red Shade Called "Period" in Hopes of Ending the Menstruation Stigma
The color is also intended to "promote period positivity."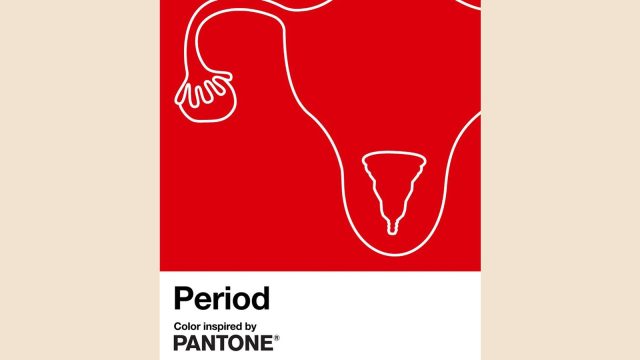 Periods are normal (nearly half of the world's population experiences them), yet there's still stigma surrounding menstruation. Pantone is looking to help change that with the launch of a new color inspired by that natural menstrual flow. The new shade of red is called "Period" and the Pantone Color Institute has made its intentions clear.
"It may be the 21st century but attitudes towards menstruation are stuck in the past, with periods seen in some quarters as mysterious, shameful and taboo—something that should be hidden away and not discussed, or even made the butt of jokes," a statement from the institute reads, according to Good Morning America.
In an Instagram post sharing the new color announcement, Pantone wrote that the launch was intended to not only break stigma around menstruation but also to promote period positivity.
"An active and adventurous red hue, courageous Period emboldens people who menstruate to feel proud of who they are," the caption reads. "To own their period with self-assurance; to stand up and passionately celebrate the exciting and powerful life force they are born with; to urge everyone regardless of gender to feel comfortable to talk spontaneously and openly about this pure and natural bodily function."
For the launch of "Period," the Pantone Color Institute collaborated with Intimina, a menstrual care brand, on the Seen + Heard campaign, "which is designed to empower and encourage everyone, regardless of gender, to have more accurate and honest conversations around menstruation," per a statement from Intimina. To develop the red shade, Pantone and Intimina worked alongside a gynecologist and consulted research published in Medical News Today, but didn't intend to represent an accurate depiction of period blood.
Instead, we created a visual identifier of a red shade that would help @Intimina leverage the power of color to share their story, Pantone's Instagram caption reads.
According to Good Morning America, Laurie Pressman, Vice President of Pantone Color Institute, said that they chose to launch the color now because "we feel the timing couldn't be more present or impactful."
So, to all the menstruators out there, let's go paint the town "Period" red—and vote in the November election.