This unexpected product has kept my skin sound while traveling
Ever since I moved to Boston from New York City, my frequency of travel has more than doubled. From hopping on the train monthly to attend work events in NYC to exploring New England through the windshield of my boyfriend's car to boarding planes headed to the West Coast, it feels like I've spent more nights in every bed but my own. Traveling is a luxury I do not take for granted, but I'll be honest—it often puts a lot of stress on my mind, body, and unfortunately, my skin.
There's enough to worry about when traveling, so why put your skin through more stress with products it's not used to absorbing?
Considering my skin is very sensitive, it's almost guaranteed to freak out whenever I use a new-to-my-regimen product on my face. Since I usually travel with mini-versions of skincare products that aren't part of my regular beauty routine, my skin will break out or dry out because I'm stressing it out with new formulas. Sometimes, I'll fill up those clear, plastic travel bottles from the drugstore with my usual products, but I find that I don't usually need the full amount for just one product, and I find them a total pain to wash out.
Everything changed when I tried the Palette by Pak Original High Fiver ($39). Since I received it a few months ago, it's become a staple in my travel bag and now I can't go on a trip without it. The sleek little genius manages to hold my whole skincare routine in the five wells, and it's truly been a godsend in keeping my skin clear, breakout-free, and thoroughly hydrated while away from my home. The Original High Fiver can hold up to .17oz of any form of product, whether it be runny liquids, gels, thick creams, or even powders. Each well is leak-proof, made from medical-grade material, and can be pressed upwards so you can get every last drop.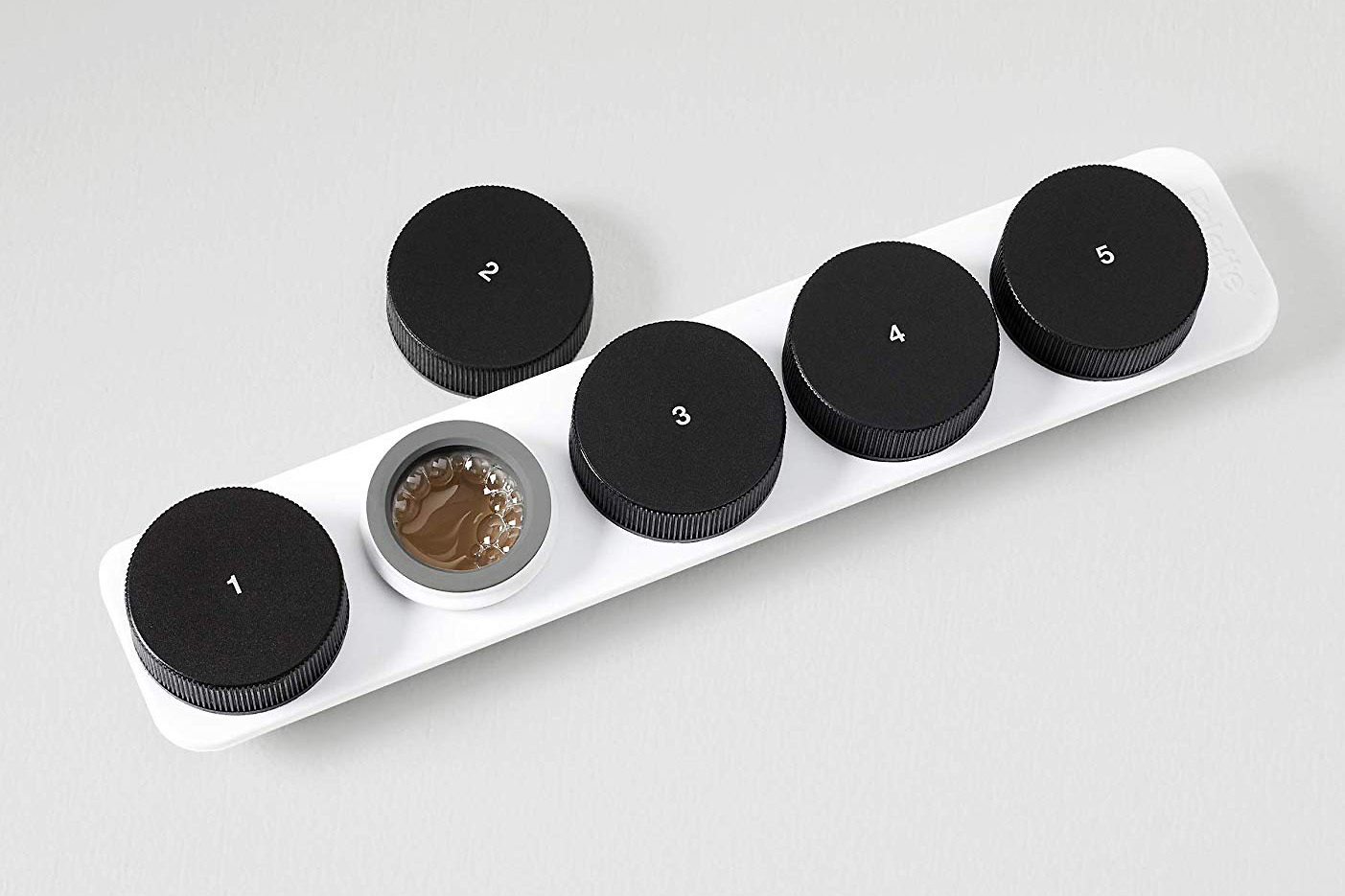 Shop it! Palette by pak Original High Fiver, $39, amazon.com
This space-saver allows to me pack less skincare and more makeup and/or haircare in my toiletry case, and it couldn't be easier to quickly rinse out and clean once you're back home. Although I mostly use this for my skincare, I've also squeezed some of my favorite tinted moisturizer or hair cream into the wells if I know I won't be using a lot of products during my trip. 
Not only do I love that this product keeps my skin sane while traveling by helping me maintain a consistent skincare routine, but I also love how sustainable it is—it helps me avoid using a million plastic minis (and further polluting the environment), while preventing product waste, too. Plus, the actual space-saver itself is made of recycled plastic, and may include anywhere from 30+% of recycled plastic in the white base.
If you're tired of wasting all your cash on minis in the Sephora checkout line, it might be time to consider a more sustainable, planet-protecting option like the Original High Fiver. Yes, I know those minis are seriously adorable, but you know what isn't cute? A trashed Earth and irritated skin.